The moment Kragh Andersen won...
Double delight for the Dane!
Vuelta a España
La Vuelta 2020 Stage 2 - as it happened
Peloton soft-pedals home
There'll be no change at the top as the peloton trundles home as one around eight minutes down. So, Primoz Roglic will take that 57-second lead over compatriot Tadej Pogacar into the final 36.2km time trial tomorrow.
Coquard trio come home
That chase trio of Coquard, Hofstetter and Boasson Hagen cross the line almost four minutes down.
Bennett extends lead
Far back in that chase group Sam Bennett pipped Peter Sagan to extend his lead in the green jersey competition... so it looks very much like the Irish rider will end Sagan's quest for an eighth green jersey.
Mezgec wins sprint for second
It looks like it's going to be a one-two for Sunweb as Nikias Arndt opens it up for second place - but Luka Mezbec gives it some welly to take the runner-up spot, just as he did in Lyon when Kragh Andersen won Stage 14. He finishes ahead of Stuyven, van Avermaet and Naesen.
Victory for Soren Kragh Andersen!
The Sunweb rider punches the air and sits up in celebration as he crosses the line for his second Tour stage win in a week. What a ride from the Danish powerhouse!
Final Kilometre
Luke Rowe leads the chase now but it's too late as the lone leader is under the flamme rouge and his gap is still almost a minute...
2km to go - "Time? Time?"
Kragh Andersen screams to the following motorcycle - he wants to know how he's doing... Don't worry, Soren, the win is yours.
5km to go - In the bag
Kragh Andersen is making light work of these undulating, winding roads to the finish. He has 50 seconds now and it's just a battle for second place behind. Missed opportunity for Sagan to win his first stage since last year's Tour. It's the day he loses his green jersey, too.
9km to go - TT one day early
Soren Kragh Andersen has decided to do his time trial a day in advance. He's powered to a 40-second lead and surely the victory is his. Stuyven's counter came to nothing and there's an air of resignation among the chasers.
11km to go - Stuyven chases
Jaspter Stuyven decides enough is enough and he's ridden off in pursuit of the others. A few have gone after him but Sagan, Trentin and Bennett are just looking at each other.
13km to go - 25 seconds
The 26-year-old Dane continues to grow his gap as the others just look at each other behind. He won stage 14 with a solo attack - could the Sunweb rider go the double?
15km to go - Kragh Andersen goes clear
Matteo Trentin shows how strong he is with an attack on an uphill rise - he opens up a gap but Kragh Andersen then counters. He's a unit and won a stage last week so this could be dangerous. Behind, Bauer and Rowe do their best to close this one down.
Kevin Reza on Black Lives Matter
Kevin Reza, the only black rider in the Tour, spoke to Orla in the Breakaway yesterday about cycling's diversity problem.
"I've been riding since I was 10 years old but I'm worried that I may be the last rider to come from my island, Guadeloupe. I hope I'm wrong and that there will be others. I struggle with this question of diversity because in my eyes we are all the same and we're all trying to do our job as well as possible."
Here's some more from the interview:
20km to go - Pick your winner
It looks like the peloton has accepted the state of play so the winner will come from this group of 12: Naesen, Rowe, Bauer, Sagan, Trentin, Bennett, Kragh Andersen, Mezgec, Stuyven, Arndt, van Avermaet and Devenyns.
They have 1'40" on the chasers and 2'45" on the pack.
25km to go - More join the party
Luka Mezgec, Jasper Stuyven, Nikias Arndt, Greg van Avermaet and Dries Devenyns join the seven leaders so we have 12 out ahead now with two minutes on the pack.
There's a chasing trio of Bryan Coquard, Hugo Hofstetter and Edvald Boasson Hagen in pursuit but a minute or so back.
Lotto Soudal lead the chase on the front of the peloton - they missed the move because they were busy nursing their sprinter Ewan back into the fold.
30km to go - Sprinters attack!
Peter Sagan, Matteo Trentin and - of course - Sam Bennett ride clear of the pack in pursuit of those three leaders. Soren Kragh Andersen of Sunweb is also there. So we have seven out ahead and others trying to join the party.
32km to go - Ewan dropped again
Oli Naesen, Luke Rowe and Jack Bauer have opened up a small gap on the front - and at the back, Caleb Ewan has been dropped again. He's really struggling on these rolling roads.
36km to go - 14 riders ahead
The chasers have joined the three leaders. They are: Tim Declercq (Deceuninck-QuickStep), Valentin Madouas (Groupama-FDJ), Jasper Stuyven (Trek-Segafredo), Greg van Avermaet (CCC Team), Pierre-Luc Perichon (Cofidis), Omar Fraile (Astana), Nils Politt (Israel Start-Up Nation), Mathieu Burgaudeau (Total Direct Energie), Soren Kragh Andersen and Casper Pedersen (Team Sunweb).
But it soon comes to nothing and they are swallowed up by the peloton.
38km to go - Bora come to the front
Max Schachmann comes to the front of the pack to lead the chase for Bora-Hansgrohe. They don't have anyone in that chase group - but the gaps are still small, with the three leaders only 37 seconds clear.
40km to go - Uran distanced
Colombia's Rigo Uran was held up in that incident and EF man needs to fight back on now. He has a few teammates with him but that's come just as the road started going uphill again. The attacks are coming in aplenty now with a few more bridging over to this chase group. It's the huge engines of Declercq and Politt who are driving the tempo.
41km to go - CRASH!
A few riders go down near the back of the pack - Pavel Sivakov, Hugh Carthy and Romain Sicard. That happened as two riders went off the front - Greg van Avermaet, in pursuit of a Cofidis man. Nils Politt and a few others are chasing on.
42km to go - Chasers reeled in
That green jersey chase group has sat up and been reabsorbed by the peloton. So just the three riders out ahead now with a gap of 30 seconds. Jumbo-Visma are on the front on these rolling roads - but expect Bora to take over soon.
45km to go - Cavagna caught
The lone leader is caught by the three chasers but behind we have more movement with a chase group comprising of Sagan, Bennett, Asgreen, Trentin and Morkov. The quintet formed after the sprint and we have the prospect of having four QuickStep riders in a new group on the front. Casper Pedersen of Sunweb has joined them so we have six chasing...
49km to go - Cavagna wins sprint
So, that's 20pts for Remi Cavagna with the chasing trio taking the points for second, third and fourth. Bennett then comes over ahead of Sagan to add 11points to his 10pts so the Irishman has extended his lead to 53pts.
Even if Sagan wins today's stage, and Bennett is dropped near the finish, the gap would be 3pts in favour of the Irishman, who would be fancied to finish higher than his rival on the Champs-Elysees.
50km to go - Rowe joins chasers
Cavagna has one minute now on the pack with three riders - Rowe, Rolland and Cosnefroy - in pursuit. Their presence spoils things for anyone who needs green jersey points, but there's still no response from the pack.
51km to go - Attaque de Pierre Rolland!
The Frenchman latches on to a move from compatriot Benoit Cosnefroy and the two riders open up a gap. Behind there's a Sunweb rider in pursuit - and an Ineos rider... Luke Rowe, I think.
52km to go - Calm before the storm
Lotto Soudal, Bora Hansgrohe and Deceuninck-QuickStep are all near the front working for their sprinters on this climb. Caleb Ewan is back in after those earlier problems for the Aussie pocket-rocket fastman. With Postlberger forced to abandon today, perhaps Bora have decided that their best chances of pulling something off today come at the finish with a stage win for Sagan, rather than any intermediate shenanigans. It's a bit of a drag this uphill rise...
60km to go - Tension rises
With the intermediate sprint coming up, and the conditions quite windy, many teams are trying to nudge towards the front - most notably the Bahrain-McLaren outfit of Mikel Landa, who have been very active these past days. Tim Declercq of QuickStep is there keeping an eye on things ahead of the sprint, which is both preceded and followed by uncategorised climbs. Before the sprint it's a 5km climb at 4.5% so there could be some pressure applied by Bora.
Cavagna's lead is still 1'10".
70km to go - Fast stage
The average speed today has been a zippy 46.9km/h so there's no let up in the peloton. It's worth adding that we have almost 2,000m of climbing today which will take its toll. Cavagna must feel lonely as he rides through dense forest all on his own, but with the peloton breathing down his neck.
75km to go - Cavagna continues
The Frenchman's lead is down to 1'20" but if he can hold on and mop up the maximum points at the intermediate sprint, that's a job well done for Cavagna and his QuickStep team for it will help protect Bennett's green jersey lead. There's around 20km to go till the sprint on these straight but rolling roads.
80km to go - Ewan distanced
It's been a tough week in the Alps for Caleb Ewan and the Australian is really feeling every inch of the gradient on these rolling roads. He's been tailed off by the peloton and I think the Lotto Soudal rider will struggle to be in the mix for today's finish. His best bet is to keep any remaining form he has for the Champs-Elysees. His third win last year came in Paris - and he can do exactly the same this year...
84km to go - Cavagna takes KOM point
And despite expectations, there's no movement in the peloton on this climb so Bora will leave it till later on... Perhaps Sagan is resigned to losing the green jersey and will instead focus on getting the win that has eluded him these past 14 months. Over the top goes Cavagna, his lead down to 1'55".
88km to go - Cote de Chateau-Chalon
We're onto our only categorised climb of the day. It's a Cat.4 effort of 4.3km at 4.7%. A reminder that Richard Carapaz took the polka dot jersey from Tadej Pogacar yesterday and has a slender two-point lead over the Slovenian. With only 1pts up for grabs and destined for Cavagna's jersey pocket, the Ecuadorian can breathe easily today: he'll be in polka dots for the ITT tomorrow.
90km to go - Chateau! Pools! And field art!
It's definitely one of these days...
100km to go - Gap begins to drop
Our lone leader's advantage comes down to 2'20". Before the sprint we have the Cat.4 climb which is probably where we will see Bora really pile on the pressure in a bid to drop Sam Bennett and some of the other sprinters. They need Sagan to pick up as many points as possible today to keep his green dream alive.
Sagan trails Bennett by 52 points. There's 20pts at the intermediate sprint and 50pts at the finish - but it won't mean anything if Sagan bags those while Bennett also picks up points. They need a proper swing in their favour, so it's a huge ask...
115km to go - Cavagna powers on
We've seen this kind of move before from Remi Cavagna, who is renowned for his supreme engine. His advantage remains 2'40" with the chasers having been reabsorbed by the pack. Bora have not given up theh chase, not have Sunweb, but at this rate, Cavagna will mop up the intermediate sprint points - and that suits his QuickStep teammate Sam Bennett just fine.
130km to go - Trio sits up
It looks like that Van Baarle trio has called it a day - which goes to show how hard Cavagna is going on the front of the race. The Frenchman still has 2'55" on the pack which is bring driven by Bora-Hansgrohe and Sunweb, with the Jumbo-Visma train ever alert to the potential dangers of an ambush.
140km to go - Martin sits up
It looks like Guillaume Martin has either had enough, or he's decided to help this chase group by dropping out of it. The presence of the Frenchman was clearly an issue for many of the chasing teams behind, given his position on the apron of the top 10. Barthe then finds it hard to keep up with the others, and he drops back a bit later. So we have Van Baarle, Walscheid and Soupe now in pursuit of Cavagna, whose lead over the pack remains 2'25".
145km to go - Bora come to the front
Bora-Hansgrohe and Sunweb have come to the front of the pack to keep a lid on things. Cavagna is still out on his own with a gap of 2'25" on the pack. That five-man chase group is 1'20" down and they're getting further away, not closer...
150km to go - Postlberger abandons
Poor Lukas Postlberger has had to withdraw because of a bee sting to the mouth. We saw the Austrian off the back by the medical car a bit ago but he must have decided to call it quits. What a sad end to the race for the Bora-Hansgrohe man - and he could have played a vital role for Peter Sagan today...
Meanwhile, Walscheid has bridged over to the Van Baarle group so we have five now in pursuit of Cavagna.
155km to go - Van Baarle in pursuit
Dylan van Baarle has managed to zip clear now in pursuit of the lone leader. The moustachioed Dutchman has a few riders in pursuit... and it looks like Guillaume Martin (Cofidis), Geoffrey Soupe (Total-Direct Energy) and Cyril Barthe (B&B Hotels-Vital Concept). Very interesting to see Martin there - he's 12th on GC and this isn't a typical stage for his strengths.
160km to go - Cavagna clear
That trio fizzled out before Remi Cavagna (Deceuninck-QuickStep) zipped clear. The Frenchman has a handful of riders trying to bridge over, including the Olympic champion Greg van Avermaet (CCC). It's still very unsettled with riders galore trying to join forces in pursuit of the lone leader, who has 16 seconds to play with.
165km to go - Three clear
Max Walscheid (NTT), Michael Schar (CCC) and Neilson Powless (EF) zip clear with yesterday's stage winner Kwiatkowski in pursuit. The first kilometre was fast with many riders - most notably Jasper Stuyven of Trek-Segafredo - trying to get in the mix.
And if you thought this Tour is done and dusted, then think again... Here's how all the major jersey competitions could still be turned on their head these next few days...
166.5km to go - They're off!
An Ineos Grenadier rider - Luke Rowe, I think - makes the first move of the day as soon as the flag is waved. Quickly it's quite strung out behind the Welshman. A superb day for Ineos yesterday with that one-two for Michal Kwiatkowski and Richard Carapaz, who also took the polka dot jersey.
Riders in the neutral zone...
The remaining 147 riders are making their way through the neutral zone and past a huge Renault truck depot, which the aerial cameraman seems very taken by. Another few kilometres to go before the stage gets going. All smiles at the moment for Sam Bennett - but will the Irishman be feeling the same way in four hours' time?
We're in Bourg-en-Bresse this morning, famed for its delicious (and very expensive) chicken dishes. Two non-starters: Michael Gogl (NTT) and Jonathan Castroviejo (Ineos Grenadiers).
Bonjour le Tour!
Hello everyone - and welcome to live coverage of the nineteenth stage of this year's race, a rolling ride which will appeal to both the breakaway specialists and sprinters, with the green jersey tussle very much to the fore. Can Peter Sagan turn things round and reinvigorate his faltering drive for an eighth green jersey? And is this really ambush territory for the yellow jersey Primoz Roglic? Find out very soon...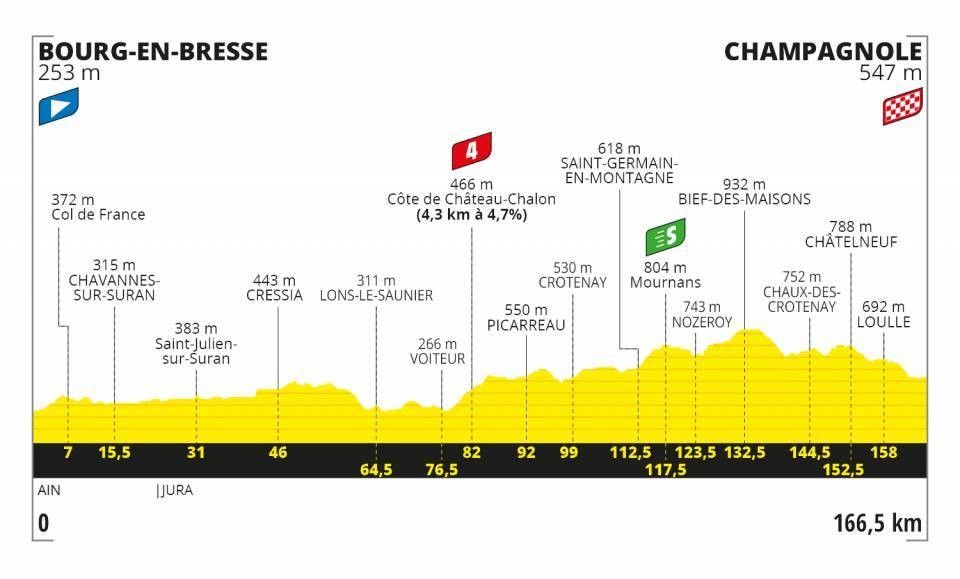 'Phenomenal Van Aert can win a Tour, he's hot property' - Wiggins
Bradley Wiggins, speaking on the latest episode of his podcast, lauds Wout van Aert and says he believes the Jumbo-Visma star will win a Tour de France title.
"He is phenomenal," Wiggins said on the podcast. "I mean, he has been phenomenal, and he seems to be getting better every day as well.
"If there is any question of, can this guy win a Grand Tour in the future? Of course he can. He could probably win this one if he wanted to!
"To come in after this amount of races and all the work he has done. All the talk about Adam Yates going to Ineos and can he win a Grand Tour, maybe it's his moment."
Stage 18 recap - Ineos one-two as Kwiatkowski wins stage and Carapaz takes polka dots
A maiden Grand Tour stage win for Poland's Michal Kwiatkowski ahead of teammate Richard Carapaz capped a glorious day for Ineos Grenadiers on Stage 18 of the Tour de France, with the Ecuadorian also securing the polka dot jersey as Primoz Roglic stayed in yellow after the third and final day in the Alps.
After days of trying to bounce back from the shock withdrawal of defending champion Egan Bernal, Ineos finally got their win as Kwiatkowski was gifted a maiden Grand Tour scalp by teammate Carapaz in front of a mesmerised crowd in La Roche-sur-Foron after the pair put on a masterclass during a gruelling third and final day in the Alps.
Kwiatkowski and Carapaz were the last riders standing from a large breakaway which formed early on in the 175km stage from Meribel, with Tour debutant Carapaz on the front of the race for the third day running.
Highlights - Special day for Ineos in final full mountain stage of the Tour de France
How to watch on TV and livestream details
Stage 19 will be broadcast live on Eurosport 1 from 12:30 and you can also watch an uninterrupted feed on Eurosport Player and right here on eurosport.co.uk.
Dan Lloyd, Bradley Wiggins, Orla Chennaoui and the team will bring you all the best post-race analysis and reaction on The Breakaway, which will be available to watch on Eurosport Player before 7pm.
And don't forget, we are bringing you daily podcasts from the Bradley Wiggins Show - check in with your podcast platform of choice this evening...
Vuelta a España
La Vuelta 2020 Stage 1 - As it happened
Vuelta a España
Wiggins: 'I don't think Froome has form to win Vuelta'