avant-match
Race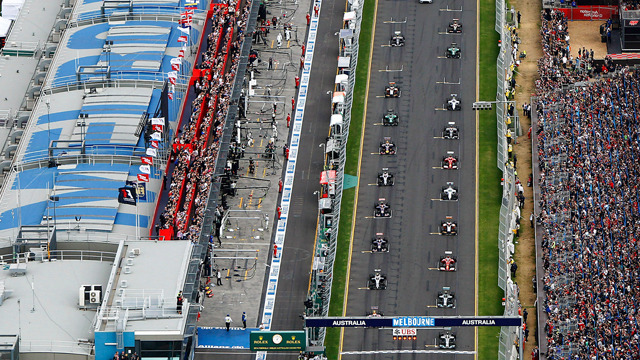 Follow the Canadian Grand Prix live with Eurosport. The race starts at 20:00 on 19 June 2022. Find race results, standings, stats, scores and track info. Keep up with the top F1 drivers and teams including Lewis Hamilton (Mercedes), Valteri Bottas (Mercedes) and Max Verstappen (Red Bull Racing).
Formula 1 fans can read breaking Formula 1 news, interviews, expert commentary and watch free replays. Don't miss the upcoming Formula 1 events. Make Eurosport your go-to source for sports online from Formula 1 to football, tennis, snooker and more. Enjoy live streaming of this season's top sports competitions.
LAP 70/70 - VERSTAPPEN WINS THE CANADIAN GRAND PRIX!
What a thrilling last part of the race, which saw Sainz give everything to catch Verstappen, but the Red Bull driver just about holds on to take the chequered flag!
LAP 68/70 - SAINZ STILL IS CLOSE BUT NOT CLOSE ENOUGH!
Sainz heads down for the last lap of the race, and remains just under a second behind Verstappen! He cannot quite get there and Verstappen looks like this win is his!
LAP 63/70 - VERSTAPPEN LOOKING COMFORTABLE
Sainz cannot get close enough, even with DRS on the straights. Verstappen has a gap of eight tenths on the Ferrari man, and is pulling out the vital tenths he needs around the circuit, and crucially, before the DRS zone.
LAP 59/70 - SAINZ NOW FIVE TENTHS BEHIND
Sainz opens the rear wing again on the long back straight, but he is not close enough to Verstappen! Meanwhile, Alonso is overtaken by Leclerc, who is now up to P6.
LAP 57/70 - SAINZ STILL WITHIN A SECOND OF VERSTAPPEN
Carlos Sainz will have DRS at the end of this lap, as he is now just under eight tenths behind Max Verstappen!
He opens it on the back straight, but he cannot get close enough to make the move!
Meanwhile, Zhou gets past Vettel is in 9th place.
LAP 55/70 - GREEN FLAG!
Verstappen opts to floor it right out of the final chicane! Sainz has gone right with him, and is not far behind, but the classification is as you were in the top ten!
By the end of the lap, the Dutchman has pulled a gap of nine tenths!
LAP 54/70 - SAFETY CAR IN THIS LAP!
The safety car will be coming in at the end of this lap as Verstappen tries to back the pack up ahead of the restart! Sainz is right on his gearbox!
LAP 51/70 - CLASSIFICATION: TOP TEN
Verstappen, Sainz, Hamilton, Russell, Ocon, Alonso, Leclerc, Bottas, Vettel, Zhou.
Safety car remains out, and there has been no indication on when it will come in as the marshals clear the wreckage of Tsunoda's AlphaTauri at Turn 1.
LAP 50/70 - SAFETY CAR!
Safety car deployed! Yuki Tsunoda goes into the barrier at turn 1 and Carlos Sainz has got just what he wanted!
The AlphaTauri driver reports he is okay. Sainz opts to pit for a set of hard tyres under the safety car, and this has worked out beautifully for him. He is now right behind Verstappen, who must be livid. This moment will change this race!
LAP 49/70 - VERSTAPPEN WILL FINISH RACE ON THESE TYRES
Verstappen's engineer says to his driver on the radio that he can finish the race on these set of tyres.
LAP 48/70 - LECLERC UP INTO P9
Charles Leclerc makes his way through the traffic as he gets past Zhou Guanyu at the first corner. He is now chasing Lance Stroll, but the Aston Martin opts to come in at the end of the lap. Leclerc moves up another position.
LAP 44/70 - VERSTAPPEN PITS!
Verstappen reports that his tyres have hit the cliff and Red Bull call him in for a set of hard tyres. He pits from the lead! Sainz now leads the race.
However, he is livid, as he comes back out behind Lewis Hamilton! However, the Mercedes driver is not ahead of him long as at the end of the lap, he decides to come in for a new set of hards.
LAP 42/70 - SLOW STOP FOR LECLERC!
This afternoon goes from bad to worse for Charles Leclerc. The Ferrari driver finally decides to box for a set of medium tyres, but the stop is slow, and it costs him around three seconds in time! He comes back out behind Daniel Ricciardo and is in P12.
LAP 40/70 - LATIFI HAS PIT-STOP WOES
Nicholas Latifi, who is running at the back of the grid in his home race, has a major issue at his pit stop, as the Williams mechanics struggle to get a set of tyres onto the car. He is now 38 seconds behind Pierre Gasly in 18th.
LAP 39/70 - VERSTAPPEN STILL OUT IN FRONT
Verstappen still leads this Canadian Grand Prix, but Carlos Sainz has dropped the gap down to 6.9 seconds. Can he continue driving with this pace? He is currently the fastest man on the circuit.
Leclerc still cannot get past Ocon and remains in P6.
LAP 37/70 - LECLERC DOWNBEAT!
Leclerc's engineer comes on the radio to suggest a change in strategy to 'Plan B' - the Ferrari driver responds disconsolately, saying "Whatever - I cannot pass him [Ocon]."
He is not happy in that red car!
LAP 34/70 - COMMENTATOR'S CURSE!
Is Max Verstappen cruising? Well, it seemed like it. However, he has just got on the radio to his engineer to complain that his tyres are going away. Let's see how long his hard tyres can last on this stint, as he came in for them during the first virtual safety car.
LAP 31/70 - VERSTAPPEN CRUISING
We are edging towards the half-way point in this race. Verstappen leads. He is 8.1 secs clear of Carlos Sainz behind him in 2nd, with Lewis Hamilton 14 seconds off the lead in P3.
There have been two retirements so far, as Sergio Perez and Mick Schumacher both stopped out on track due to mechanical issues. Red Bull report that it was a gearbox issue on Perez' car.
As for Leclerc, he is in P6 after starting in P19, but the Ferrari driver cannot pass Ocon ahead of him in 5th.
LAP 29/70 - ALONSO FINALLY COMES IN
Alpine box Alonso for the hard tyre in the aim of keeping those set of tyres on all the way until the end of the race for the one-stop strategy. Will it work? That remains to be seen.
He comes out behind Leclerc and Ocon and is now in P7. Meanwhile, Leclerc complains on the team radio that he has "no traction" in his Ferrari, as it looks a bit of a handful on the rear-end. He cannot clear Ocon at the moment!
LAP 27/70 - ALONSO BEING CAUGHT BY RUSSELL
Alonso is lapping two seconds a lap slower than the cars ahead of him, and George Russell behind him is also eating into the gap to the Alpine man, which currently stands at 2.4 seconds.
LAP 24/70 - HAMILTON IS PAST ALONSO!
Alonso seems to be a bit of a sitting duck in that Alpine on the medium tyres, as Hamilton is the next car to fly past him on the back straight. Alpine may be rueing their choice not to pit under the first virtual safety car!
Alonso is the only driver out there still on the medium tyre! He is now down to P4, and Hamilton is now in P3.
LAP 23/70 - SAINZ IS PAST ALONSO!
Carlos Sainz gets past Fernando Alonso down the back straight with the help of DRS! He is up to P2.
Leclerc, meanwhile, makes the overtake of the race so far, after getting past Bottas around the outside into the final chicane! Fantastic manoeuvre.
LAP 22/70 - SAINZ PITS
Carlos Sainz pits from the lead, and emerges out in 3rd place, crucially ahead of Lewis Hamilton in 4th. He is just a tenth behind Alonso!
LAP 20/70 - VIRTUAL SAFETY CAR!
Mick Schmacher goes straight off at the chicane before the hairpin at the back of the circuit, and it triggers a VSC. A nightmare afternoon for Haas has just got a whole lot worse.
Russell acts and comes in to box for hard tyres. That has worked perfectly for him, as he is now in P5, ten seconds behind Lewis Hamilton.
After a lap, we are back racing under green flag conditions.
LAP 18/70 - DOUBLE OVERTAKE ON ALBON
Albon loses two places in a number of corners, as Bottas finally gets the move done into the final chicane. That leaves the Williams man compromised for straight-line speed on the start/finish straight, and Leclerc also takes his chance and easily gets past to move up into P11.
LAP 16/70 - VERSTAPPEN PASSES ALONSO
Max Verstappen easily gets past Fernando Alonso on the back straight with the help of the DRS, and the Red Bull man now is effectively a pit stop ahead of the Alpine driver now after previously boxing under the virtual safety car. Alpine may have to bring their driver in for a tyre change in the coming laps.
LAP 14/70 - LECLERC WATCH
As for Charles Leclerc, the Ferrari driver is struggling to clear traffic in the midfield and is currently running in 12th, right behind Alex Albon and Valterri Bottas.
LAP 12/70 - HAMILTON PASSES OCON
Lewis Hamilton makes the most of his fresh set of hard tyres and passes Esteban Ocon down the main straight with the help of DRS! He can now chase his team-mate George Russell, who is on scrub mediums.
LAP 10/70 - GREEN FLAG!
We are back racing after the VSC. Sainz leads, from Alonso in 2nd (+2.3s) and then Verstappen in 3rd (+6.4s).
Alonso is on the team radio to his engineer to enquire about Hamilton after his pit stop. The exchange implies that Fernando believes he is racing his former McLaren team-mate.
LAP 9/70 - ACTIVITY IN THE PITS!
Both Verstappen and Hamilton have boxed for hard tyres under the Virtual Safety Car. Verstappen comes back out in third place.
Alonso and Sainz have opted to stay out and not come in to change their tyres. Risky move!
8/70
LAP 8/70 - PEREZ OUT OF THE RACE!
DRAMA! Sergio Perez pulls over on the side of the track and it sounds like he has a hydraulics problem! This may lead to a safety car. A bad weekend for the Red Bull driver gets worse.
The Virtual Safety Car is deployed to allow the marshals to clear his car.
LAP 6/70 - EARLY PIT STOPS
Magnussen's race may be on the verge of being ruined as the Dane is shown a black and orange flag by race control, indicating that he must box for repairs or face a black flag (disqualification). He needs to change his front wing.
Sebastian Vettel and Pierre Gasly come in early and switch to hard tyres. It looks like the medium compound is graining fairly easily at the start of this race.
LAP 4/70
Verstappen has already opened up the gap to Fernando Alonso to over two seconds, and the Spaniard now has Lewis Hamilton bearing down on him in 4th place.
Meanwhile, Pierre Gasly may have some issues as he has been told by his engineer to lift and coast!
LAP 3/70 - SAINZ UP INTO SECOND
Carlos Sainz gets the job done on Fernando Alonso down the back straight with a straight forward overtake. That could prove crucial for his race! Magnussen, meanwhile, is informed by his engineer that he does have front wing damage but he is okay to continue.
LAP 2/70 - RUSSELL GETS PAST SCHUMACHER
The cars complete their first tour of the circuit. Verstappen leads Alonso, with Sainz, Hamilton, Magnussen and Ocon behind.
Just before the end of Lap 1, Russell makes the move on Schumacher to move up into 7th place. Magnussen looks like he has some damage on his front wing and may need to pit!
LAP 1/70 - LIGHTS OUT AND AWAY WE GO!
The five red lights are out and we are underway! Verstappen leading the way! Alonso still in 2nd and is hanging on in front of Sainz!
FORMATION LAP UNDERWAY!
Verstappen sets off fairly quickly, and he is already back on the starting line after the formation lap, with the rest of the grid all the way back. Deliberate ploy from the current world champion?
ARE YOU READY FOR THE FIRST CANADIAN GRAND PRIX SINCE 2019?
We are almost ready for lights out here at the Circuit Gilles Villeneuve!
OTHER PERFORMANCES OF NOTE IN QUALI
Kevin Magnussen and Mick Schumacher had a fantastic qualifying session yesterday for Haas as they both line-up in 5th and 6th respectively. This is Schumacher's best chance yet to secure his first points finish in Formula One.
Guanyu Zhou also had his best qualifying of the season so far, with the Alfa Romeo driver lining up in 10th place, out-qualifying team-mate Valterri Bottas in the process.
CHAMPIONSHIP PERMUTATIONS
Championship leader Max Verstappen will be a relaxed man this afternoon, as his nearest challengers in the Driver's Championship are both starting on the bottom half of the grid.
Sergio Perez starts in 13th, and Charles Leclerc faces a tough afternoon as he will have to fight his way through the grid from 19th.
Ferrari have demonstrated good pace on their long runs, so Carlos Sainz, who lines up in 3rd on the grid, will be looking to challenge Verstappen for the win.
STORY OF QUALIFYING
As for qualifying yesterday, the story of the day was the surprise pace of Fernando Alonso in the Alpine, who has looked quick all weekend in the damp conditions. Putting his car on the front row - his first in F1 since 2013 - was no mean feat.
However, today's race will be a different proposition altogether, as in dry conditions, normal service will resume in terms of the Alpine's true race pace. We shall see if the Spaniard can mount a challenge for the podium this afternoon.
CANADIAN GRAND PRIX - AS IT HAPPENED