avant-match
Qualifying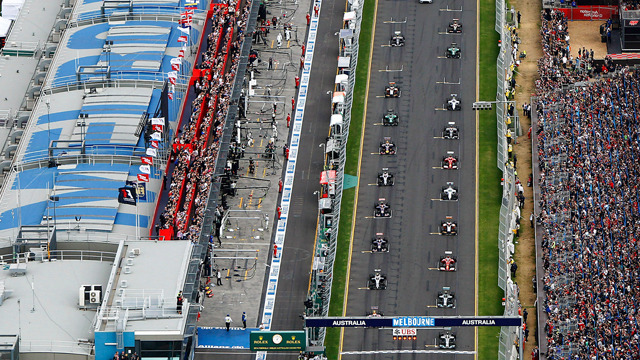 Follow the Malaysian Grand Prix live with Eurosport. The race starts at 09:00 on 23 March 2013. Find race results, standings, stats, scores and track info. Keep up with the top F1 drivers and teams including Lewis Hamilton (Mercedes), Valteri Bottas (Mercedes) and Max Verstappen (Red Bull Racing).
Formula 1 fans can read breaking Formula 1 news, interviews, expert commentary and watch free replays. Don't miss the upcoming Formula 1 events. Make Eurosport your go-to source for sports online from Formula 1 to football, tennis, snooker and more. Enjoy live streaming of this season's top sports competitions.
The race begins at 08:00 UK time tomorrow. We'll have full commentary for you - join us then!
Top 10: Vettel, Massa, Alonso, Hamilton, Webber, Rosberg, Raikkonen, Button, Sutil, Perez
Hamilton can still finish his lap... but he's lost time. VETTEL TAKES POLE!
Massa into second! Outqualifies Massa for the fourth time in a row!
Alonso smashes into pole by a second! And then Vettel beats him by another second! Wow!
Raikkonen only good enough for fourth, Sutil sixth. Button then takes it from Sutil.
Perez steals up to sixth and has another lap - Webber in second and doesn't have time.
As the curtain comes down on the session - it's Hmailton, Webber, Vettel, Rosberg, Massa, Alonso, Button, Perez, Raikkonen, Sutil - one lap left for every driver...
Raikkonen, now down in 9th, will only have one quick lap to jump up the standings.
Perez up to eight, Webber goes top, but Hamilton leapfrogs him with a 1:51.699!
Webber now on the fastest lap after two sectors, but every driver is out on the circuit and improvements are coming thick and fast.
Webber claims the other spot on the front row - Button up to seventh - but the times are coming down all the time as conditions improve and the drivers start to trust the grip of the track.
It appears to have stopped raining, but in five minutes will there be time to gamble and try a slick tyre? You have to go into the pits right now if you're entertaining that.
Perez eclipses that, but Hamilton and then Rosberg sweep past, before Vettel demolishes all those times - 1:52.576, more than a second clear of the field.
The rain has eased off a touch, the sun is shining - Sutil posts the opening lap - 1:58.293.
Sutil begins his timed lap. Should point at the DRS is disabled for the session as a safety measure from race control.
Hamilton has ventuerd off the road in his outlap. Nothing major, no damage done, but a hint of slippy conditions.
'We're expecting weather to get better', Rosberg told. We'll see.
Drivers are on intermediates. Sutil leads them out. Alonso didn't join the queue, but leaves immediately from the garage.
The drovers queued up at the pit exit to get a lap under their belts straight away - I think that might be almost all 10 in that queue!
If it stops raining, however, it will be a quick switch to slicker tyres - the track is hot and does dry out fast.
My guess would be that it's raining too heavily for inters. Heavy rain over the pits may also influence that decision, but it is still patchy - some parts of the track are less affected than others...
All done and dusted. Now the head-scratching begins on what option to run on Q3. Can drivers get away with intermediates?
There are no cars on track at the moment, it's raining steadily, and I think it's pretty safe to say that Q2 is effectively over.
Grosjean, Hulkenberg, Ricciardo, Gutierrez, Di Resta and Maldonado stand to miss out.
And sure enough, he spins at the same point again. The top 10 likely to be set in stone here - Rosberg, Webber, Hamilton, Raikkonen, Sutil, Massa, Alonso, Button, Vettel, Perez
I think it might have been Di Resta's last chance to get into Q3 - grip is going to be affected here as the rain comes down.
Di Resta, who abandoned a quick lap early in the session, is on sector one of this lap - a good start, but then he slips around the wet spots on the track!
Alonso slipping around towards the end, but gets through in sixth - Massa then narrowly eclipses that.
'It's raining at turns five and six', Hamilton says. If you haven't got a lap time in, the window of opportunity is closing fast.
A much-improved lap from Webber, settling any Red Bull nerves to go into second. Button is fifth.
But Rosberg blows that time out of the water with a 1:36.190 - and interestingly, his pace is again better than Hamilton's - about four-tenths of a second better.
Gutierez posts a 1:39.2 to start qualifying, but Sutil demloishes that with a 1:36.834. Grosjean can't match that.
It's still dry now, I should stress, but that could be a curveball if the rain does come later. Di Resta goes back into the pits without posting a lap. He was on the medium tyre from his Q1 run, as is Sutil.
RAIN PREDICTED - RADAR IMAGES SHOW A STORM JUST A FEW MILES AWAY - IT COULD HIT BEFORE THE END OF QUALIFYING
Sutil also out, followed by the Meredes duo.
16 drivers will become 10 for Q3 - the action begins early with Gutierrez straight out, followed by Grosjean. But saving tyres will still be a consideration.
Eliminated in Q1 - Vergne, Bottas, Bianchi, Chilton, Pic, Van der Garde - Credit to Bianchi, who was only half a second away from Q2 in the Marussia in dry conditions.
Bottas does not improve, however, so Vettel is safe. But it has been far from impressive for Red Bull, with the world champion through in 15th.
Vettel is not going to improve so it's over to the Saubers and Bottas to see if they can get by - Gutierrez does!
Webber improves - up to 9th at the death. That was more nervy than it should have been...
'You need do another lap,' Vettel told.
The top 10 are all in the pits - they think they are safe. The rest are scrapping and with Williams and Suaber improving on mediums the Red Bulls are not safe yet.
Vettel's time only good enough for 11th - that's a second clear of the bottom drivers, but more than a second off the pace as well. Webber backed off his lap and is starting again.
Red Bull's qualifying pace was superb in Australia, but Webber and Vettel's first laps are off the leading pace after sectors one and two...
Raikkonen, winner in Malaysia 10 years ago today, drops into second - Sutil still the fastest, indicating that he put it a very tidy lap indeed.
Hamilton meanwhile has stayed out on hard tyres and shaved a little off his time. Grosjean eases into third.
Vettel also heads out on mediums. When you go out with that little time in the session left and one run to get through, it says something about your confidence in the car...
Raikkonen also goes out on mediums, as does Grosjean and Lotus. The two teams who are perhaps the fastest appear to have made a conscious decision to preserve their harder tyres for the race.
The Force Indias are looking mighty impressive here on medium tyres - Di Resta eases into sixth, and Sutil runs a 1:36.809 to go top!
Top 10 (no sign of Red Bull or Lotus yet) - Rosberg, Alonso, Hamilton, Button, Massa, Maldonado, Perez, Bottas, Gutierrez, Hulkenberg
Button slots in fourth, just two hundredths behind Hamilton. That's encouraging for McLaren - they're not quite as far off the pace as they have been so far this season. Perez sixth.
Massa into second, before Alonso jumps ahea dof him, just seven-hundredths behind. And Hamilton claims third place.
Nico Rosberg posts a 1:37.239 - that's no great surprise that he slips in at the top. McLaren the latest to venture out.
Meanwhile the Mercedes and Ferrari duo are also both out, but it looks like both have hard tyres on. Bottas the early leader with a 1:38.376.
First times are up - Chilton puts down a 1:40.683, his team-mate Bianchi is six-tenths of a second quicker - that's a big jump, but it should come well down from here.
Maldonado heads out, as do the Toro Rossos, followed by Saubers and Caterhams.
There's a bit of rubber on the track from the GP2 race held earlier today, and the track hasn't been cleaned, so Chilton is effectively doing the rest of the grid a favour by bombing down the racing line. Bianchi, his team-mate, follows him out, as does Valtteri Bottas of Williams.
A driver breaks cover! Max Chilton of Marussia hits Sepang.
It's a changing race track - it will get quicker later, so early times will most likely count for nothing.
Well, go go go on the clock, stay where you are on the track. Nobody rushing out, waiting for later in the session.
20 minutes go on the clock, and the six slowest of the 22 drivers in Q1 are eliminated.
Tyre life is a concern, so expect racers to limit their runs today. Mediums and hard tyres are the dry options, and the medium is clearly the quicker of the two tyres.
Conditions - it's currently overcast - and it is getting darker. Whether that will turn to rain later in the session remains to be seen, but we begin in the dry.
Lotus, Red Bull and Ferrari appear primed for a three-way battle for pole position at the Malaysian Grand Prix while all teams will try to protect their tyres on the abrasive Sepang Circuit.