avant-match
Free Practice 1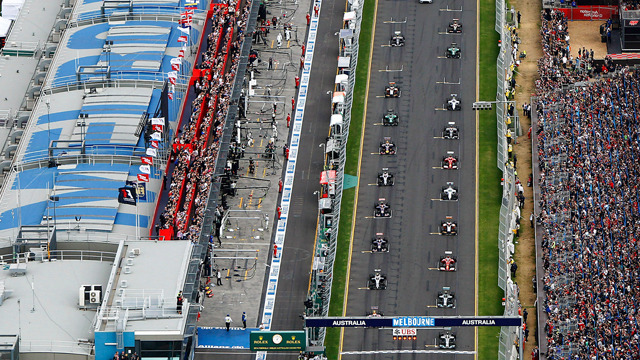 Follow the Singapore Grand Prix live with Eurosport. The race starts at 12:00 on 24 September 2010. Find race results, standings, stats, scores and track info. Keep up with the top F1 drivers and teams including Lewis Hamilton (Mercedes), Valteri Bottas (Mercedes) and Max Verstappen (Red Bull Racing).
Formula 1 fans can read breaking Formula 1 news, interviews, expert commentary and watch free replays. Don't miss the upcoming Formula 1 events. Make Eurosport your go-to source for sports online from Formula 1 to football, tennis, snooker and more. Enjoy live streaming of this season's top sports competitions.
We'll be back with coverage of second practice from 14:30 UK time.
Webber then fastest in the opening session from Schumacher, Sutil, Vettel, Alguersuari, Button, Liuzzi, Buemi, Kubica and Petrov. Outside the top 10 are Hamilton (18th) and Massa (19th).
0'
Sutil second after his last effort while Webber, despite locking up, pushes him into third and Schumi second with 1:54.589 for top spot.
0'
Schumacher's final lap of a long, hard run for him is 1:54.708 and enough for P1.
The chequered flag comes out and Hamilton crosses the line soon after with a time for 10th.
2'
Vettel takes top spot with 1:55.137 moments after Button had leapt up despite finding traffic.
Hamilton cannily comes through the pitlane to find a clear part of the track to work with.
Webber finally finds a clean lap sans traffic and the result is 1:56.831 and fifth.
4'
Sutil with 1:56.226 to go above Button.
Sutil second as a flurry of quick laps are set. Webber has to back off...
6'
Schumi with 1:57.757 for P2 before Button tops the pile with 1:56.228.
Button goes third with 1:57.872.
Vettel with a first effort of 2:07.594 while Lewis sets 2:02.454 to go 12th.
Button is 10th quickest but the others are yet to set a flying lap.
And all four cars are indeed now on track.
The Red Bulls and McLarens yet to come out, but surely they will do soon.
Alguersuari third now with 1:58.974... and goes second above Schumacher with 1:57.904 on his next lap.
Alonso out on hard slicks while the city is now in darkness.
Kobayashi's latest 1:57.260 fastest of 15 drivers to have set a time. Massa up to third while his Ferrari team-mate Fernando Alonso waits in the cockpit and will be out soon.
No pictures in from the session as yet - but there are a few from around the paddock. And yes, there are three of Jessica Michibata.
29'
Kobayashi back on top with 1:57.914.
Glock has gone with slick tyres on his Virgin.
Vitantonio Liuzzi up to third before his Force India team-mate Adrian Sutil takes that from him.
34'
Petrov went second for a minute or so before Schumi tops his effort - and that of Kobayashi. The leading mark now 1:58.504.
Kobayashi betters his mark to 1:58.947. The track is drying quickly.
Massa has lost the F-Duct - not literally - and goes fifth.
Alguersuari equally messy through turn 10. Schumacher up to second, 0.198s off the pace.
40'
Kamui Kobayashi with 1:59.900 to go P1. Bruno Senna almost finds the barriers in his Hispania at the turn 10/11 complex.
Still no timed laps from Hamilton, Button, Webber or Vettel.
44'
Alguersuari quickly takes over at the summit, his time 2:00.655.
At the halfway point the order reads: 1.Glock 2.Barrichello 3.Hulkenberg 4.Alguersuari 5.Heidfeld 6.Schumacher 7.Kobayashi 8.Petrov 9.Massa 10.Senna 11.D'Ambrosio 12.Klien 13.Buemi
The light is fading. The floodlights are on, giving the track that ghostly glow.
Rubens Barrichello up to second from third with Glock's mark still standing.
Glock is now 2:02.180. The pole time from last year with around a minute and 46 seconds.
Felipe Massa slots into fourth.
58'
There is greater traffic out there now with Glock P1 in 2:03.286. Five drivers have set a time.
Schumacher improves to 2:04.758 with Timo Glock now in P2. The track still drying.
62'
Schumi tops the list with 2:06.176.
Buemi posts 2:10.783 in the Toro Rosso, third fastest.
Petrov down to 2:07.277, with plenty of water still affecting the lap. Schumacher into second in the Merc.
66'
The Renault driver sets a time of 2:09.423 to go P1.
Vitaly Petrov is the next driver to set a time. It is slower than that of Klien, who has improved to 2:14.
Klien is guiding his Hispania around the track. It is a timed effort - 2:18.621. The one and only time set so far.
Webber has been back out and returned to the garage.
Kubica back in after jumping the kerbs at turn 10.
Robert Kubica is on track in the Renault, who of course commanded Nelson Piquet Jr to crash deliberately here in 2008 to set up the win for Fernando Alonso.
Schumacher dispays some of that famed German humour by pulling a face in the garage while elsewhere Hamilton discusses the McLaren MP4-25 with engineers.
The track largely quiet as teams work on their cars following the installation laps.
This is a spectacular circuit for the cameras, situated as it is in a city. /// Red Ears: "I like this track. Running at night cuts all the visual clutter leaving only the track, the walls and a few of the spectator stands to be seen. With only 3 named turns of 23 (Turn 1 - Sheares ; Turn 7 - Memorial ; and Turn 10 - Singapore Sling) there are plenty of possibilities to liven up the rest. My favorite is Turn 17. Perhaps we could call it Nelson's Bane?"
Both make their way out. There are large areas of standing water, while the track is dry in other parts.
Everyone has emerged now except for Germans Michael Schumacher and Sebastian Vettel.
Lewis Hamilton and Mark Webber were among the early drivers on track on intermediate tyres. They come back in.
The track temperature is 27 degrees Celsius as the track dries in the sun after a storm this afternoon in Singapore.
Christian Klien will stand in for Sakon Yamamoto at Hispania this weekend after the Japanese driver came down with food poisoning.
The hour-and-a-half-long session begins.
The title race is hotting up, with five drivers in with a realistic chance of winning the World Championship.
Welcome to live coverage of first practice for the Singapore Grand Prix.