avant-match
Qualifying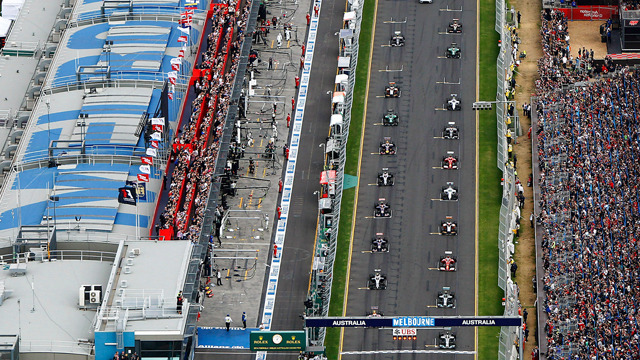 Follow the Singapore Grand Prix live with Eurosport. The race starts at 16:00 on 24 September 2011. Find race results, standings, stats, scores and track info. Keep up with the top F1 drivers and teams including Lewis Hamilton (Mercedes), Valteri Bottas (Mercedes) and Max Verstappen (Red Bull Racing).
Formula 1 fans can read breaking Formula 1 news, interviews, expert commentary and watch free replays. Don't miss the upcoming Formula 1 events. Make Eurosport your go-to source for sports online from Formula 1 to football, tennis, snooker and more. Enjoy live streaming of this season's top sports competitions.
Time for pole is 1:44.381. Webber with 1:44.732, Button 1:44.804 and Hamilton 1:44.809.
Vettel on pole - his first flying lap of qualifying three is enough to yet again secure pole.
Button on his flying lap now but his time of 1:44.804 is good enough for only third. Red Bull lock out the top of the grid.
Webber goes quickest in sector one but loses some pace in sector two. The time is a good enough time for 2nd with 1:44.732. Red Bull top of the grid.
Chequered flag but still some movement to be had on the timesheets.
Sutil and Di Resta not coming out. Disappointing.
Hamilton with his gloves off. He may have a problem and won't be doing another lap or maybe they are saving the tyres due to that punctured set from Q2.
Massa aborts his run after what looked to be a bit of a coming together with Hamilton. Schumacher yet to come out.
Webber comes in on 1:45.378 for fourth.
Vettel betters them both for provisional pole - 1:44.381 the time.
Hamilton goes top of the timesheets with 1:440.809, having knocked off his team-mate Button who had recorded a 1:44.928.
The Red Bulls, Ferraris and McLarens now out on the track.
Button heads a queue for the start of Q3 with Alonso just behind.
The top ten shootout is underway.
Vettel atop the timesheets with 1:44.931, Button with a 1:45.472 and Webber 1:45.651. Hamilton loses a set of tyres after a puncture but is through to the shootout.
Perez is incredibly unlucky to not make it through to the top ten shoot out. Barrichello, Maldonado, Buemi, Senna, Alguersuari and Kobayashi also fail to make the top ten shootout.
Di Resta loses over a tenth in the middle sector on his previous best but manages to wrestle back tenth from Perez and he is in the top ten shoot out.
Hamilton has a puncture and is currently in eighth with a time of 1:46.829 - could be in trouble here.
Alguersuari makes a 1:49.862 which is slower than his Q3 time and he is only 13th.
Sutil hanging in at tenth with a time of 1:47.970 but he'll have to go back out.
Rosberg goes up to seventh with 1:46.405 but Schumacher is back out on the track.
Massa clocks a 1:45.955 to go 5th and that's ahead of Hamilton who has now gone out on the suuper-softs.
Massa going well on his flying lap.
Rosberg out on the super-softs just into his flying lap...
In a green light situation and we have only nine drivers who have completed a time.
With the red flag out Alguersuari, Buemi, Rosberg, Senna, Schumacher, Perez, Kobayashi and Massa yet to record a lap.
Kobayashi clips a curb and flies into a wall - he is unhurt but it looks like we'll have a red flag.
Button goes 1:45.472, Webber 1:45.651 and Alonso 1:45.779.
Hamilton goes top of the timesheets with a 1.47.014 on the harder tyres.
Hamilton on the harder compound while Alonso, Webber, Vettel and Button run the super-softs - hoping to get a good enough lap out of the way early on.
We are having a couple of issues with our timings but they'll all be up to date in two ticks.
Qualifying two underway - McLaren out very early on.
Vettel is top of the timesheets with a 1:46.397 with Button just bhind at 1:46.956.
So the racers out are Liuzzi, Ricciardo, D'Ambrosio, Glock, Trulli, Kovalainen, and Petrov.
Alguersuari makes it with a 1:49.588 which puts him in 16th.
Maldonado makes Q2 with a last gasp 1:49.710.
Senna is up to 15th with a 1:48.861 but he puts his team-mate Petrov out.
Senna drops to 18th but is on a lap, as is Kovalainen, Glock and D'Ambrosio.
Buemi up to 13th with 1:48.753 and Schumacher who has remained in the pits is down to 14th.
Sutil on a flying lap now.
Perez up to seventh with 1:47.717.
Buemi holding 17 at 1:52.008 with Senna and Maldonado just ahead but you have to think that will change.
As Di Resta has run the super-soft that is likely to see everyone from nine down do the same, so a lot of drivers in danger.
Six minutes to go and the top seven are probably safe with times good enough to see them through.
British driver Di Resta clocks a 1:49.003 - but he has taken a set of super-soft tyres and is back on the track again, meaning he doesn't think that's quick enough.
Barrichello on a flyer and is up to 13 with a 1:50.039.
Schumacher clocks a 1:48.819 and should be able to sit out the last section of qualifying three.
Button on the radio reporting a problem with understeer.
As it stands 1:50.802 set by Buemi is enough to get into qualifying two with a little over ten minutes to go.
All cars out now. Vettel from Button and then Hamilton.
Buemi at 17 with a time of 1:50.802
We have 23 of the 24 cars out on the race track.
Kamui Kobayashi makes a 1:49.097 but Vettel and Button are out on the track now.
Rubens Barrichello clocks 1:51.042 and is top of the timesheets and the track is filling up. He won't be there for long.
If you believe the rumours, Rubens Barrichello is racing for his place in the team with Kimi Raikkonen waiting in the wings.
Rubens Barrichello has finished his first lap out and is now going at full tilt.
Off we go! Qualifying is under way - Q1 is a 20-minute session, at the end of which seven drivers will be eliminated
Just three-tenths of a second seperated Red Bull, McLaren and Ferrari in the final practice earlier, with Mark Webber with a best lap of 1:46.081.
The important weather information is this: it is 21:50 local time and it is a sweltering 30C, but the track is not much warmer, just 35C. Quite muggy out there - crucially it is dry.
Following yesterday's shambles in practice, the kerbs have been upgraded. There were issues at turns 3, 7, 10 and 14 yesterday.
Good afternoon everyone, and welcome to LIVE updates from qualifying for the Singapore GP from the Marina Bay street circuit. The action gets underway at 15:00 UK time.