avant-match
Free Practice 3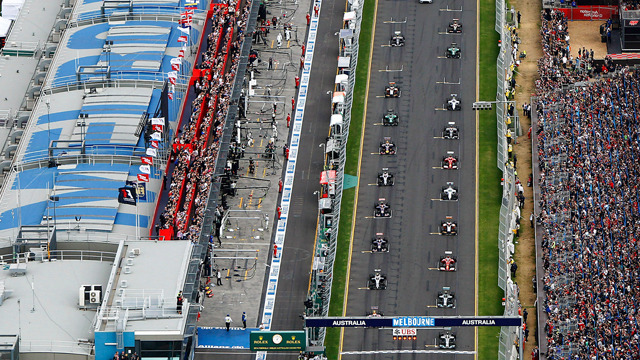 Follow the Singapore Grand Prix live with Eurosport. The race starts at 12:00 on 21 September 2013. Find race results, standings, stats, scores and track info. Keep up with the top F1 drivers and teams including Lewis Hamilton (Mercedes), Valteri Bottas (Mercedes) and Max Verstappen (Red Bull Racing).
Formula 1 fans can read breaking Formula 1 news, interviews, expert commentary and watch free replays. Don't miss the upcoming Formula 1 events. Make Eurosport your go-to source for sports online from Formula 1 to football, tennis, snooker and more. Enjoy live streaming of this season's top sports competitions.
Join us for live coverage of the qualifying session from Singapore at 2pm!
Vettel set the pace in the supersoft tyres but Grosjean could be the real story. Team-mate Raikkonen was down in 12th, but the pace of the Lotus suggests a Red Bull procession might be avoided.
VETTEL FASEST! The championship leader finishes top of the FP3 standings, with Grosjean second after a super run in the Lotus. Could he be a contender for pole?
Vettel's 1.44:173 still stops the standings as the Red Bull car is hoisted back into the pits. Not a bad run from the Germain.
Raikkonen is well off the pace in the Lotus and he is down in 18th at the moment – not too encouraging.
Plenty of traffic out on track – only Sutil is still in the pits – as we near the conclusion of this FP3 session.
Now we should see some pace as fuel decreases and all drivers throw their efforts into a final couple of laps. Who can finish fastest?
Webber is a touch off the pace and runs into traffic in any case. Alonso keeps out of his way but the Red Bull man suffers and is seven tenths off Vettel's pace.
Grosjean in the Lotus has the mark to beat but Vettel is up to the challenge and records a 1.44:173 to go quickest in the Red Bull.
Grosjean goes quickest with a 1.44:364 on the supersoft tyres, but Alonso can't match it with a 1.45:257.
Alonso goes four tenths quicker than his previous best time in the first sector. Could be some quick times to shake up the standings.
Grosjean takes three tenths out of his best time on the medium tyres on the supersofts. There's pace in these tyres.
Grosjean comes through for his first flying lap on the supersoft tyres.
Lots of drivers coming out on track in the supersoft tyres now. Vettel also out on track.
Red Bull look pretty dominant so far and Vettel topped FP2 of course. Hamilton sits third having topped FP1 – these are the men who will mix it this weekend.
The Ferrari garage are busy making tweaks to the front end of their car. Everyone's cooling their jets ahead of a final push now.
The Ferrari garage are busy making tweaks to the front end of their car. Everyone's cooling their jets ahead of a final push now.
Not much movement at the top of the pile now, but everyone will be out soon for a final crack at this FP3 session.
Webber is sitting pretty in the pits at the moment. He has been practicing starts quite a lot in the pit lane today.
Rosberg's car is also back up on jacks in the pits, along with Massa's.
Di Resta comes back into the pits. His season has been derailed by back-to-back retirements so wants a big race this weekend.
Just 20 minutes remaining of this final Free Practice session – remember, we are covering the qualifying live at 2pm.
Vettel pops into second with a 1.46.299 – that's the two Red Bulls sat at the top of the pile again.
Webber still top of the pile with Hamilton second. Massa, down in 11th, returns to the pits.
On a side note, Sky Sports are now speculating that New Jersey have satisfied Bernie Ecclestone's requirements and will have a GP next season, coming back to back with Canada.
Vettel's just getting going though, so expect to see him at the top of the standings shortly.
So it's Webber from Hamilton, Grosjean, Rosberg, Vettel and Alonso. The latter two having just set their quickest laps so far.
Well here is the Red Bull of Webber and he smashes Hamilton's time with a 1:46.220 – three tenths faster than the Englishman.
So both the Mercedes are looking in fairly good nick though it's only Free Practice of course, and he haven't seen what kind of heat Red Bull are packing yet.
Hamilton is quickest through the middle sector and he goes fastest with a 1.46:514 – a tenth quicker than Grosjean.
A rash of times come through as Romain Grosjean goes quickest in the Lotus, with Hamilton second. Rosberg third and Button fourth.
Jenson Button out on track for McLaren…
Rosberg goes quickest, going round this magnificent circuit in 1:47.516, five tenths under Ricciardo's mark.
And through the second sector he is nearly seven tenths under Ricciardo's time. Good pace from the German.
Rosberg is seven one-hundredths off the pace through the first sector in the Mercedes.
Hulkenberg is only second fastest in the Sauber as Ricciardo sits proudly atop the pile still. None of the really big boys out yet though.
And Kimi Raikkonen records his first lap, only to find he is nearly four tenths slower than Ricciardo. The Australian leading things at the moment.
Ricciardo – heading for Red Bull next season of course – goes fastest with a 1.48:001, that six tenths quicker than Pastor Maldonado's lap.
Valtteri Bottas locks his front right tyre when coming round a corner in his Williams. There's been a bit of that today.
Toro Rosso's Daniel Ricciardo has been sent back out by his garage after they took a look at his suspect brakes.
Sauber driver Nico Hulkenburg locks up when approaching a corner and that's ruined his lap.
Paul Di Resta has more pace in the second Force India though and the Scot goes quickest with a flying lap of 1.49:572.
Marussia's Max Chilton is on his first flying lap but he is well off the pace by the looks of things.
Van der Garde goes quickest again for Caterham with a 1:50.792. Sutil next in the Force India then Pic for Caterham.
Nico Rosberg reports back to the Mercedes garage that he is having problems with his steering – an issue that afflicted him yesterday too
Ferrari have been having problems with their tyres overheating this weekend – so that's something to look out for.
Adrian Sutil is out on track for Force India though and he is quicker through the second sector. He leaps over Caterham duo Pic and Giedo van der Garde with a 1:51.402.
Caterham's Charles Pic goes round in 1.52:954 for our first proper flying lap.
Heat is an issue in Singapore and the Red Bulls appear to be sporting some heat-resistant paint in an effort to keep temperatures down.
Here comes three-time world champion Vettel as he accelerates from the pit lane. A win this weekend and surely no one can stop him.
Nothing much to report as yet. Hamilton is taking things easy as he puts his Mercedes through its paces
Lewis Hamilton emerges from the pits for a first run. He was quickest in FP1 remember.
We are being treated to some spectacular scenes by the cameras at Marina Bay. Singapore is one of the most picturesque races, there's no doubt about it.
Mark Webber is sticking his helmet on as Red Bull prepare his car. It's 6pm local time and the dusk is just starting to come down.
Three of the five races held in Singapore have been won from pole position so, as ever in this sport, getting to the front of the grind if absolutely vital. Hamilton and the Red Bulls had the pace yesterday - will things change today?
Sebastian Vettel justified his favourite tag for the Singapore Grand Prix when he stormed clear of his rivals in Friday's second free practice, lapping more than half a second quicker than Red Bull team mate Mark Webber.
Report
Hello and welcome to our live coverage of Free Practice 3 at the Singapore Grand Prix. Lewis Hamilton was fastest in FP1, followed by championship leader Sebastian Vettel in FP2.