avant-match
LIVE
Novak Djokovic - Kei Nishikori
ATP World Tour Finals - 19 November 2016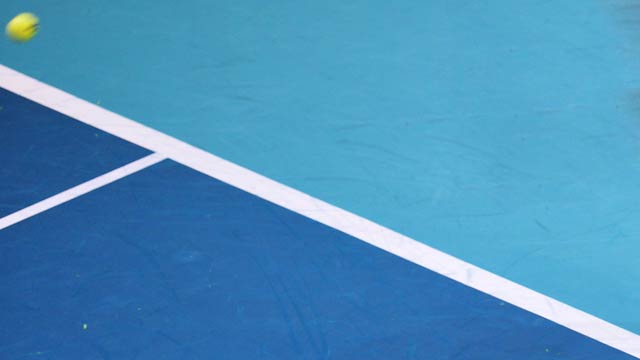 World Tour Finals – Follow the Tennis match between Novak Djokovic and Kei Nishikori live with Eurosport. The match starts at 21:00 on 19 November 2016. Our live coverage lets you follow all the key moments as they happen.
Head-to-head: see historical stats and visit our detailed profiles for Novak Djokovic vs Kei Nishikori. Get all the latest on Tennis: fixtures, results and tables.
GAME, SET AND MATCH! - DJOKOVIC 6-1 6-1 NISHIKORI. Novak roars back from 40-15 down to once again toy with his opponent before a crunching forehand winner secures the match in just 66 minutes. It was quite irresistible at times and sets up the final that every neutral was hoping for: Murray v Djokovic at 6pm GMT on Sunday evening. The title and the world No.1 spot are both online the line. Don't miss it!
DJOKOVIC 6-1 5-1 NISHIKORI. This could easily have been a 6-0 6-0 match. Nishikori has two on the board, but you have to say Novak was complacent in both of those. Here, he holds to love and is one away from a super-quick victory.
DJOKOVIC 6-1 4-1 NISHIKORI. A first service hold for Kei! He at least avoids the bagel as he hits back from 0-30. Nole should have had triple BP but flashes what looks like a routine crosscourt winner out. It took 57 minutes, but the Japanese will feel a tiny bit better now.
DJOKOVIC 6-1 4-0 NISHIKORI. Novak consolidates the double break to 15. That's six games on the spin now. Kei looks completely demoralised.
BREAK! - DJOKOVIC 6-1 3-0 NISHIKORI. This is a masterclass, but it's also disappointing for the crowd. If you opted for the afternoon session you had a treat. If you got the evening, not so much if you wanted to see a competitive match. Kei saves two more BPs but then falls away from deuce. A sublime return sees the Japanese miscue horribly and Novak roars in delight as he snares the double break on his third opportunity. He knows he's all-but in the final now.
Latest from Murray's post-match press conference.
DJOKOVIC 6-1 2-0 NISHIKORI. Nole consolidates to 15. He'll want to get this done in just over an hour now. It's a ridiculous target against the fifth best player in the world, but you wouldn't think that just looking at this match. No contest.
BREAK! - DJOKOVIC 6-1 1-0 NISHIKORI. What a magnificent final point from Novak. He continues to squeeze the hope out of the Japanese, clocking up double break point. The fifth seed saves one but is then toyed with before his hopeful defensive lob drops way long. Nole looking somewhere close to his best and gets this second set off to a flyer.
SET! - DJOKOVIC 6-1 NISHIKORI. Djokovic concludes the first set in just 35 minutes. He wastes two set points and then saves two break points with aces after Kei had threatened with the backhand down the line. The Serbinator eventually gets his act together and sees it out for a crunchy breadstick. It's looking pretty nailed on for a Djokovic v Murray final tomorrow.
BREAK! - DJOKOVIC 5-1 NISHIKORI. Djoker re-focuses after the show of complacency and goes some way to killing Nishi's spirit with a third break of the set. He'll now serve for it.
BREAK! - DJOKOVIC 4-1 NISHIKORI. A glimmer of hope for Kei. Djoker looks on for a potential bagel, but suffers a surprising lapse from 40-15 to offer up BP. Special K attacks the second serve and snares a break back when Nole fires long.
BREAK! - DJOKOVIC 4-0 NISHIKORI. This is a stroll in the park for Novak. His return game is on absolute fire. He cuts through Kei's service in ruthless fashion, securing the double break to 15.
DJOKOVIC 3-0 NISHIKORI. Novak breezes through a hold to 15 to consolidate. Kei continues to give away cheap points, but even when he's in the rally he's being outmanoeuvred by the five-time champion.
BREAK! - DJOKOVIC 2-0 NISHIKORI. Djokovic doesn't have to do much to earn a break opportunity off deuce as the unforced error count of Nishikori threatens to spiral out of control. He saves it with a scintillating backhand winner down the line, but struggles to complete the recovery. Djoker won't let him off the hook and when the second BP comes around Kei double faults. Not a good sign for the fifth seed.
A slight delay as a spectator tries to force his way onto court. They've been tackled by security. Play will now continue.
DJOKOVIC 1-0 NISHIKORI. Very sluggish from Kei. He fires two unforced errors off the forehand and slaps a timid return off a second serve into the net. Djoker finishes him off with a crisp backhand winner.
20.33
Here we go, Djokovic will get us underway as he looks to set up a mouthwatering clash against Andy Murray in the final.
Djoker: "Kei is one of the quickest players on the tour. He strikes the ball so cleanly. He's very strong off both corners and definitely tries to take away (your) time. It's down to me to try and stay committed and defend the baseline."
COIN TOSS: Kei calls tails, but it's heads. Djoker elects to serve.
Nishikori: "I'm very excited to play today's match. It's a great opportunity for me and a big challenge to play Novak. But I'll try to do my best. He's a very consistent and solid player from the baseline, so I've got to work on my game for sure. I'll try to enjoy it and play my best."
Will we have the ultimate showdown for No.1 on Sunday? Kei will hope not....
VIDEO: Battle for world number 1 - Murray vs Djokovic
Djokovic has lost just one of his last 22 matches at the O2 Arena. That came against Roger Federer in the round-robin last year - but Nole avenged that defeat with victory in the final.
Jamie Murray and Bruno Soares may be the end-of-year No.1 team in the men's doubles - but they are out of this tournament in the semi finals after losing 1-6 4-6 to Klaasen and Ram.
Nishikori's last victory came at the 2014 US Open where he stunned the Serb in four sets in the semi final.
HEAD-TO-HEAD: Djokovic owns it 10-2 and has won the previous nine on the spin.
Just the three hours and 38 minutes on court for Murray this afternoon. A fantastic effort, but how fresh will he be for Sunday evening's final?
MATCH REPORT: Andy Murray survives Milos Raonic tussle to make final
Hello and welcome to LIVE updates of the second semi final of the 2016 ATP World Tour finals between world number two, Novak Djokovic and fifth seed, Kei Nishikori. The players were due on court at 8pm GMT but the schedule has been slightly delayed as a result of Andy Murray's epic tussle with Milos Raonic earlier. Jamie Murray is currently on court in the last four of the doubles.