avant-match
LIVE
Benoît Paire - Dominic Thiem
Australian Open men - 15 January 2019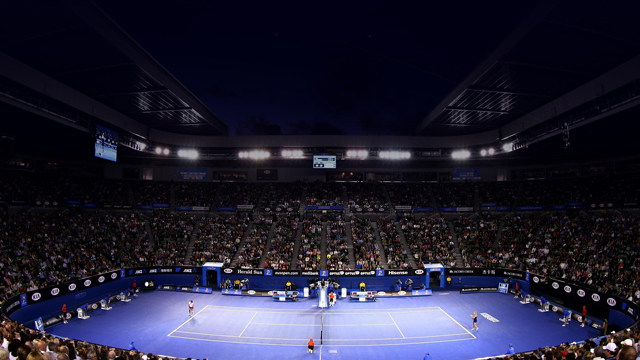 Australian Open – Follow the Tennis match between Benoît Paire and Dominic Thiem live with Eurosport. The match starts at 09:00 on 15 January 2019. Our live coverage lets you follow all the key moments as they happen.
Head-to-head: see historical stats and visit our detailed profiles for Benoît Paire vs Dominic Thiem. Get all the latest on Tennis: fixtures, results and tables.
THIEM IS THROUGH! 6-4, 6-3, 5-7, 1-6, 6-3! What a slug that was in the deciding set! Thiem and Paire were going at each other like two prize fighters and in the end it's the world number seven who gets himself over the finish line and into the second round!
*PAIRE 3-5 Thiem (4-6, 3-6, 7-5, 6-1): A break! Thiem is pulling some energy from somewhere and he clinches the break point after a 21-shot rally! The seventh seed will serve for the match.
Paire 3-4 THIEM* (4-6, 3-6, 7-5, 6-1): All of a sudden, Thiem seems to be finding a second wind. That was better from the seventh seed, hitting deeper and with more weight, moving Paire around.
*PAIRE 3-3 Thiem (4-6, 3-6, 7-5, 6-1): There was a look at the Paire serve for Thiem at 30-30, but the Frenchman's serving gets him out of the dangerous situation. So demoralising for Thiem.
Paire 2-3 THIEM* (4-6, 3-6, 7-5, 6-1): The Austrian edges ahead again in this final set. The highlight was a double-handed backhand passing shot cross-court that had Paire baffled.
*PAIRE 2-2 Thiem (4-6, 3-6, 7-5, 6-1): Thiem looks shattered, but somehow brought up a break point against Paire's serve. The Frenchman breaks him down in a rally, though, then finds some big serves.
Paire 1-2 THIEM* (4-6, 3-6, 7-5, 6-1): There's definitely something up with Thiem's movement, but he has at least rediscovered his serve and his backhand is cooking again.
*PAIRE 1-1 Thiem (4-6, 3-6, 7-5, 6-1): That was a insight into what sort of Paire we will see in this fifth and final set, and he looked tuned in. So that's a good sign for the Frenchman.
Paire 0-1 THIEM* (4-6, 3-6, 7-5, 6-1): Has Thiem stopped the rot? That was a more comfortable hold of serve for the Austrian, but there's still a real lack of energy about him.
PAIRE TAKES THE FOURTH SET 6-1! We are going the distance. Paire has raised his level, there is no doubt about that, but what has happened to Thiem? He has completely dropped out of this! 4-6, 3-6, 7-5, 6-1.
Paire 5-1 THIEM* (4-6, 3-6, 7-5): Thiem holds his serve for the first time in this fourth set, but even in that game he looked off. Is this a physical thing? Or a mental thing? Strange.
*PAIRE 5-0 Thiem (4-6, 3-6, 7-5): Quite incredible what is happening on Margaret Court Arena. Paire has moved into a five love lead in this fourth set and it looks like we are going the distance.
Paire 4-0 THIEM* (4-6, 3-6, 7-5): What on earth has happened to Thiem? He has been broken again, with Paire moving further ahead following a double fault from the Austrian. Yikes.
*PAIRE 3-0 Thiem (4-6, 3-6, 7-5): And now Paire consolidates the break of serve without any real fuss. Who is this man? Where was he in the first two sets? Such is the nature of Paire.
Paire 2-0 THIEM* (4-3, 3-6): An early break in this fourth set and it's for Paire, who looks energed and tuned in! He takes the second of three break points with some nice touch at the net.
*PAIRE 1-0 Thiem (4-6, 3-6, 7-5): Thiem brings up two break points, but they quickly disappear. This is threatening to become a bit of a tussle for the Austrian. Getting a bit messy.
PAIRE WINS THE SECOND SET 7-5! We're going to a fourth set and you'd have to say that Paire deserves it. What a way to clinch it! He gets a net cord and the ball drops just over on to Thiem's side of the net. 3-6, 4-6, 7-5. Comeback on?
*PAIRE 6-5 Thiem (4-6, 3-6): Once again, Thiem is going to have to serve to stay in this set. He let Paire off the hook there. He was vulnerable and the number seven didn't make the most of it.
Paire 5-5 THIEM* (4-6, 3-6): Paire had TWO set points, but the Frenchman gifted Thiem a way out of trouble and then the Austrian finds a couple more big serves to hold. That was a big moment.
*PAIRE 5-4 Thiem (4-6, 3-6): Fantastic resilience from Paire. He's chuntering away to himself, and to the umpire, but he manages to save what would effectively have been a match point.
Paire 4-4 THIEM* (4-6, 3-6): Paire had a real look at the Thiem service game. He had an opportunity at deuce after a couple of brilliant backhands. But Thiem grinds it out once more.
*PAIRE 4-3 Thiem (4-6, 3-6): Thiem had a couple break points in that game, but Paire found some big serving to hold and the Frenchman feels that he stil has something to offer in this match.
Paire 3-3 THIEM* (4-6, 3-6): All of a sudden Thiem's serve deserts him and Paire is presented with a chance to claim a big break. But Thiem gets out of trouble. Paire was weak with a couple of forehands.
*PAIRE 3-2 Thiem (4-6, 3-6): The Frenchman looks much more competitive in this third set. There's some composure to his hitting again and there's a chance Paire could still make a fight of this.
Paire 2-2 THIEM* (4-6, 3-6): After a gruelling game on the Paire serve that swift hold of serve from Thiem will have felt good for the Austrian. Pressure back on Paire.
*PAIRE 2-1 Thiem (4-6, 3-6): What a fun rally to end that match! Even Paire, who has been in a sulk for a while, has a smile on his face! It was case and mouse at the net, with Paire coming out on top to hold.
Paire 1-1 THIEM* (4-6, 3-6): Paire was so unlucky there. He had break points, Thiem won a Hawkeye challenge and the Austrian holds serve. That felt like Paire's last stand.
*PAIRE 1-0 Thiem (4-6, 3-6): Paire was living on the edge with a few of his shots at the start of the third set, particularly with one overhead, but the Frenchman holds serve. It's never boring with him.
THIEM WINS THE SECOND SET 6-3! It's a long way back for Paire now. He's two sets down. Thiem clinched that second set in style with a backhand winner down the line. He's one set away from the second round.
*PAIRE 3-5 Thiem (4-6): Well, that's why Paire is so frustrating. Sledgehammer blows from the Frenchman and he holds his serve in a matter of seconds. Thiem will try to serve out this second set.
Paire 2-5 THIEM* (4-6): The Austrian moves to within one game of the second set and Paire is taking his frustration out on his racquet. His performance has just been so erratic, which isn't out of the ordinary.
*PAIRE 2-4 Thiem (4-6): The Frenchman keeps himself in this second set and that was a bit better. He upped the speed of his ground strokes and found some good serving. Thiem still ahead.
Paire 1-4 THIEM* (4-6): It feels like this match is very quickly getting away from Paire, whose body language isn't good. Thiem has found his groove as well, although much of that might be down to Paire.
*PAIRE 1-3 Thiem (4-6): A disastrous game for Paire, who has now been broken three times in a row. He was slumped and lost energy in his legs and gifted that game to Thiem.
Paire 1-2 THIEM* (4-6): It's not just Paire's levels that are fluctuating, but Thiem as well. Can't see the Austrian seems to happy at the moment either, but he grinds out the hold of serve.
*PAIRE 1-1 Thiem (4-6): Classic Paire. After breaking early in this second set, he concedes that advantage by throwing in a couple of unforced errors and getting distracted.
Paire 1-0 THIEM* (4-6): Impressive start to the second set by the Frenchman. He has a reputation for disappearing if he loses the opening set, but that might not be the case here.
THIEM TAKES THE FIRST SET 6-4! Thiem had four set points on the Paire serve. He got a bit of luck at 40-40 with a net cord that beat Paire and then the Frenchman put a backhand into the tramlines.
Paire 4-5 THIEM*: It's as if Thiem doesn't have full faith in his serve, especially his second serve, at the minute. Paire is pulling off some incredible winners, but he can't take any of the three break points he had in this game.
*PAIRE 4-4 Thiem: What a service game from Paire to holds to love. Some big serving gets him a couple of free points and then Thiem concedes the game at 40-0 with a wild shot in frustration.
Paire 3-4 THIEM*: Well, where did that come from? Paire breaks to love after a realy sloppy service game from Thiem. We are back on serve in this first set. Very, very strange.
*PAIRE 2-4 Thiem: The first break of the first set and it's Thiem's! That was the typical Paire service game. There were some moments of brilliance and then a couple of wild forehands and a limp shot into the net at break point.
Paire 2-3 THIEM*: The Austrian gets Paire on the run and manages to salvage a situation from which at 0-30 it looked like a first break of serve might occur in this first set. He also saved two break points from deuce!
*PAIRE 2-2 Thiem: The Frenchman holds serve to stay level with Thiem in this first set. Paire can't compete with Thiem in the power stakes, but he is controlling that power nicely.
Paire 1-2 THIEM*: Paire is one of the most compelling players on the tour when he is tuned in. Thiem holds serve comfortably, but there are signs that the Frenchman will be competitive tonight (this morning/afternoon).
*PAIRE 1-1 Thiem: Paire could be a real threat here, but he needs to stay positive and his opening service game suggests that the Frenchman might stick with Thiem, at least for a bit.
Paire 0-1 THIEM*: A sign of things to come? Three deuces in the first game of the match, Thiem brings up a game point with a lovely inside out forehand and holds to get up and running.
Okay, here we go. Thiem will serve first in what could be one of the matches of the first round.
Good morning and welcome to Eurosport's LIVE coverage of the Australian Open. It's Day Two at Melbourne Park and we'll be bringing you updates of Benoit Paire against Dominic Thiem in the first round. The two players are warming up now.