avant-match
LIVE
Andy Murray - Jérémy Chardy
French Open men - 1 June 2015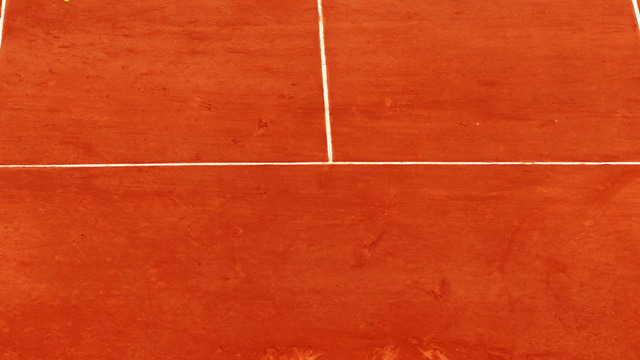 French Open – Follow the Tennis match between Andy Murray and Jérémy Chardy live with Eurosport. The match starts at 11:00 on 1 June 2015. Our live coverage lets you follow all the key moments as they happen.
Head-to-head: see historical stats and visit our detailed profiles for Andy Murray vs Jérémy Chardy. Get all the latest on Tennis: fixtures, results and tables.
Murray: "A lot of things out there changed during the match..He didn't serve so well in the first couple of sets. I had to vary my serve a lot against him. It was a very tough match, he was hitting his backhand very well, which is usually the weaker wing for him...I've played many matches against French players here - I enjoy the atmosphere here, it's certainly not dull."
Murray 6-4 3-6 6-3 6-2 Chardy: Game, set and match for Andy Murray, through to his 17th consecutive grand slam quarter-final.
Murray 6-4 3-6 6-3 5-2 Chardy: Ah, an utter disaster for Jeremy Chardy, falling away after such a brave fight.
Murray 6-4 3-6 6-3 4-2 Chardy: Chardy gets one of those breaks back and is clinging on by his very fingernails.
Murray 6-4 3-6 6-3 4-1 Chardy: The sad sound of the crowd as Murray takes the advantage and break-point is heartrending. This is looking solid from Murray now with a double break.
Murray 6-4 3-6 6-3 3-1 Chardy: The disgruntled crowd are even more disgruntled when play is halted because people are still trying to find their seats. They're not entirely happy that Murray holds, either.
Murray 6-4 3-6 6-3 2-1 Chardy: A double-fault hands Murray the break-point.
Chardy opts to complain about the final point after the set has already been awarded.
Murray 6-4 3-6 6-3 Chardy: Murray has set point - and double-faults on it. Fortunately for him he capitalises the second time round, taking the third set despite being thoroughly average in it.
Murray 6-4 3-6 5-3 Chardy: Murray's camp are urging him on here as he works for that break and to give himself the opportunity to serve out for the set.
Murray 6-4 3-6 4-3 Chardy: Chardy really has a walloping forehand, and he pushes Murray, but serve is held.
Murray 6-4 3-6 3-3 Chardy: First love service game of the match for Jeremy Chardy, and the crowd are expectant of an upset now.
Murray 6-4 3-6 3-2 Chardy: Another solid hold from Murray, which is what he needs to do to get back into this now, obviously.
Murray 6-4 3-6 2-2 Chardy: Some marvellous Murray rage seeping out now. He's not happy with himself.
Murray 6-4 3-6 2-1 Chardy: There, the first hold of the third set.
Murray 6-4 3-6 1-1 Chardy: Murray breaks back, amidst groans from the crowd.
Murray 6-4 3-6 0-1 Chardy: And Chardy breaks at the start of this third set, the crowd are chanting his name, and Lenglen is buzzing.
Murray 6-4 3-6 Chardy: What a set from Jeremy Chardy.
Murray 6-4 3-5 Chardy: The crowd are rowdy and don't fancy settling down despite the umpire urging them to.
Murray 6-4 2-5 Chardy: This is good stuff from Chardy, and Murray finds himself having to serve to stay in this second set.
Murray 6-4 2-4 Chardy: Murray manages to hold to get this scoreline to something approaching respectability.
Murray 6-4 1-4 Chardy: Chardy's really going for this now. The first set might have been relatively easy for Murray, but now the Frenchman is positively roaring.
Murray 6-4 1-3 Chardy: And there's the break! Whoops from the crowd celebrating their man.
Murray 6-4 1-2 Chardy: Feisty from Chardy - he hits back from 15-40 down to hold.
Murray 6-4 1-1 Chardy: Another fabulous service game from Murray, who's nigh on perfect there.
Murray 6-4 0-1 Chardy: Well, that took long enough. Chardy battles in defence to save two break-points before edging to his own advantage and taking the game.
Murray 6-4 Chardy: There are some ironic rhythmic claps as Murray prepares to serve out, but he's not shaken despite obviously being cast in the role of today's pantomime villain.
Murray 5-4 Chardy: Gosh, they're a rowdy lot when they want to be, aren't they, the French Open crowds? A touch of heckling for Andy Murray.
Murray 5-3 Chardy: A spot of subtle fist-pumping and Murray's within sight of the first set already.
Murray 4-3 Chardy: Murray stays a break up before the new balls are called for.
Murray 4-2 Chardy: Murray is looking almost impregnable on serve now. I've jinxed him saying that, haven't I?
Murray 3-2 Chardy: Chardy saves one break point with some admirable aggression back on Murray's serve, but can't rescue the game.
Murray 2-2 Chardy: A beautiful service game to love from Murray, lovely to watch.
Murray 1-2 Chardy: Ah. It's going to be like this, is it? Back with serve after that wobbly start all round.
Murray 1-1 Chardy: That was rather less nervous. Chardy breaks straight back with a series of crashing forehands.
Murray 1-0 Chardy: Well. Jeremy Chardy is very tentative and nervous, and Andy Murray looks almost surprised to get off to a breaking start.
11:40
Andy Murray will be on court shortly, facing Jeremy Chardy on Lenglen.