avant-match
LIVE
Alexander Zverev - Fernando Verdasco
French Open men - 30 May 2017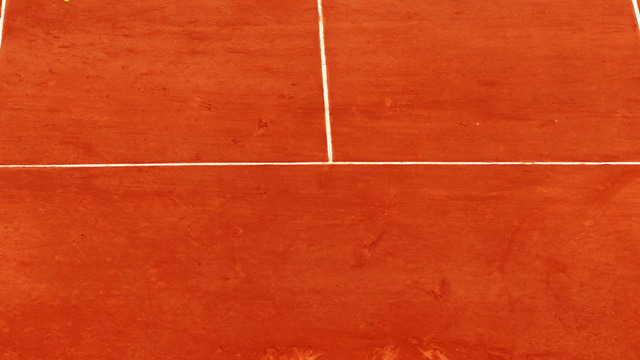 Roland-Garros – Follow the Tennis match between Alexander Zverev and Fernando Verdasco live with Eurosport. The match starts at 11:00 on 30 May 2017. Our live coverage lets you follow all the key moments as they happen.
Head-to-head: see historical stats and visit our detailed profiles for Alexander Zverev vs Fernando Verdasco. Get all the latest on Tennis: fixtures, results and tables.
"I wouldn't have wanted to be a ball on that court today," says Rob Curling, and he should know.
Oh I say! Verdasco wallops a couple more forehands, Zverev nets one, and that's all she wrote! Verdasco was excellent today, dominating the match with his forehand, such that it was almost easy in the end. He wins 6-4, 3-6, 6-4, 6-2 and plays Pierre-Hugues Herbert in the next round. Next on Chatrier: Andrew Murray.
Verdasco is zetzing that forehand with immense prejudice. He holds easily for 5-2, and Zverev must now serve to stay in the competition/
A big forehand from Verdasco has Zverev trying to match it; he can't, and it costs him two break-points. He just isn't coping with lefty swinging today, but saves himself with big serves. 4-2 Verdasco, and by two sets to one.
Huge hold for Verdasco, who leads 3-0, and at the start of the next game, Zverev makes two errors to allow 30-all, his 23rd backhand and 17th forehand unforced error. And Verdasco has break point! For all Zverev's shortcomings, he's not been able to handle yerman's forehand. But Zverev saves well with a backhand down the line, a 214km/h ace - his fastest of the match - gives him game point - and Verdasco then nets a backhand. Huge hold, but will it fire a change of momentum?
Zverev just can't get himself going! He loses his first service game of the fourth set, smashes his racket up, and if that can't elicit a reaction, he's going home!
It really was a tremendous oversight on the part of Zverev to lose that set. In any case, but from a break up, against someone given to folding when behind, dearie me.
Mats is saying that Zverev looks flat today, and needs to show some emotion. And also that he's let Verdasoc hit too many forehands.
Loose service game from Zverev and he finds himself defending two set-points. Verdasco ruins the first by slamming a forehand into the top of the net, but is excellent in the next exchange, hitting really good lengths until eventually Zverev goes long! Set to Verdasco who now leads 2-1!
"Occasioally we realise he is only 20 years of age." Mate, no one ever lets us forget.
Zverev plays a great point to get to 40-15 - it's only on serve, but the way he dominated the rally, then read Verdasco's drop-shot, augurs well for him in this match. 4-4 now.
Zverev and Verdasco swap breaks - it's now 3-3 in the second. Mats is now saying that he thinks Murray could win the tournament, but he'll need someone to beat Nadal for him - someone young and therefore fearless, like Zverev, Kyrgios even though he can't play on clay, so they say, or Thiem.
Zverev is in the ascendancy, but Verdasco hang onto another service game. In commentary they were discussing who is the better prospect, him or Nick Kyrgios. Mats reckons Zverev will be number 1 first, but Kyrgios might win a Slam first. Oh man, how good would that be?
Zverev and Verdasco are about to resume their match on Chatrier.
Aaaaaand they're stopping.
If the players keep this going, it'll get darker, so the longer they bitch the less tennis they've to play.
Mats is insisting they should carry on, and he's right. it doesn't suit the players, so what? It's not dark, the crowd have paid, get on with it. Why is this even a debate?
The ref is talking to the players.... I'd be amazed if Verdasco, chilling on his pie-holder under an umbrella, wants to carry on. The crowd are jeering, and Verdasco is up putting pressure on the umpire, while Zverev also wants for the off. It's raining harder...
It's raining harder again - the problem is that if they go out, thatll be it for the day.
Neither players is playing very well here, and Verdasco arranges himself a break-back point. But Zverev gets to the net and uses his pterodactyl wingspan to smash a winner, then again for set-point .. and there it is! Verdasco nets a backhand, and we're at one set all!
Really. Really. Zverev swiftly sequesters three break points and two big forehands into the backhand corner mean that he's now going to serve for the set at 5-3! Oh, and the rain has stopped!
Verdasco is something, consistent only in his inconsistency - immediately, he breaks back to trail 3-4 in the second.
Break for Zverev! That could be very telling, because Verdasco needs to find the strength and belief to come back. Weirdly, it's pounding it down on soe of the outside courts, but on Chatrier, less so. 4-2 Zverev, first set Verdasco.
It's looking dark out there, apparently, exceopt the windows of the commentarhy box are tinted. More news as I get it. In the meantime, we're still on serve in the second set - ir's 3-2 Zverev and 30-all - but Verdasco is struggling a bit. Oh, and umbrellas are going up.
Verdasco is hanging on now, but Zverev can't find a way to break; it's 2-2 in the second.
Listen to Mats; Verdasco has given back the break.
Zverev plays a terrible game to lsoe his servie immediately in the second set. In commentary, Mats can't stop saying how everyone knows Verdasco is streaky, so all the kid needs to do is hang in there. Easier said than done.
Verdasco takes the first set! He's played exceptioally well so far, and will be hoping to rattle through another before Zverev can plot with his coach overnight, I shouldn't wonder.
As a kid I was keen to be a tenniser because of all the free fizzy drinks sat there waiting to be consumed. By me.
Zverev cloes to 4-5; they're changing ends, and then Verdasco will serve for the set.
Verdasco is moving Zverev around nicely, taking advantage of his opponent's tallness. At worst, he'll serve for the first set in a sec =- currently, he leads 5-3.
The rain has abated somewhat.
It's windy as now on Chatrier, as Zverev wins his service and closes to 3-4. What an absolute pain in the arse, getting Verdasco in the first round.
Zverev racks himself three break points, and takes the second when Verdasco is just long with a forehand after a brusing rally. That's one back...
The rain has started, but it's not heavy for the now.
But there it is! Verdasco gets his double break, and Verdasco will be back shortly to serve at 4-1! I wonder if the scheduling favours him too - this match won't finish tonight, probably, so the oldun has a night to recuperate before going again. Or maybe he'll stiffen up. Essentially, I've no idea.
Verdasco has a point for a double break, so Zverev pounds down a monstrous ace that comes from somewhere in the clouds. Which, I'm afriad to say, are gathering above the court. We might make it through till tonight, we might not.
Verdasco and that absurd forehand are looking strong - he's a break up on Zverev, pulling him around the court then pasting big shots into the corners. 3-1, first set.
ZVEREV 1-2 VERDASCO: Verdasco has break point as a helicopter circles overhead, and his reach is impressive to capitalise on it. First blood to the Spaniard.
ZVEREV 1-1 VERDASCO: Verdasco sports a white baseball cap, Zverev has a green bandana. A comedian in the crowd thinks it's an appropriate time to sing that annoying trumpet fanfare thing. Fortunately nobody responds with the usual "Ole!"
ZVEREV 1-0 VERDASCO: Zverev holds to 15 as we get under way and the dark clouds roll in.
Next up, the exciting Alexander Zverev against the always explosive Fernando Verdasco.