avant-match
LIVE
Andy Murray - Andrey Kuznetsov
French Open men - 30 May 2017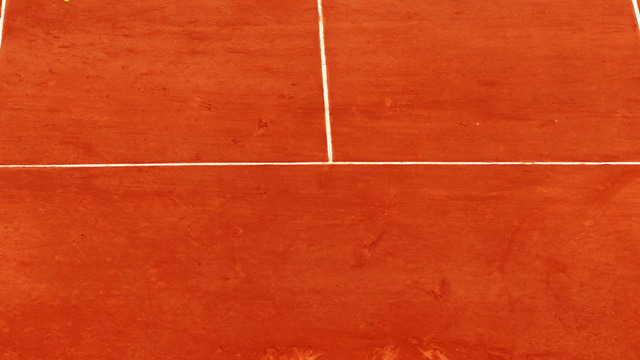 Roland-Garros – Follow the Tennis match between Andy Murray and Andrey Kuznetsov live with Eurosport. The match starts at 11:00 on 30 May 2017. Our live coverage lets you follow all the key moments as they happen.
Head-to-head: see historical stats and visit our detailed profiles for Andy Murray vs Andrey Kuznetsov. Get all the latest on Tennis: fixtures, results and tables.
Kuznetsov serves up a 30-0 lead, but Murray pegs him back, securing parity with a lovely drop-shot; he celebrates with a little skip. They end up playing a deuce, then another, before Murray ears himself a matchpoint! A loopy topspin forehand down the line is all it takes, and the world number 1 - ! - is through! He'll play Klizon next, though will do well not to be eyeing Del Potro in round 3. The final score is 6-4, 4-6, 6-2, 6-0.
Murray did pretty well to lose that second set, because the kick in the arse it gave him prompted a change in fortune and approach. He's now playing a more attacking game and generally hitting the ball harder and better, while running faster. He leads 5-0 in the fourth set, and will be accepting the applause of the crowd in approximately six minutes.
Murray is playing superb now, a break up in set four and generally looking in absolute control; if he carries on plying like this, he's a hard night for anyone. A high-kicking second serve is too much for Kuznetsov, and that's 3-0.
That sounds about right to me. Kuznetsov didn't have a sniff at anything - Murray was just too good and too consistent.
Murray is all over Kuznetsov now, slamming a groundstroke into his midriff as he comes to the net. Kuznetsov gets racket to it, but the spin sends the ball hurtling wide, and that's the set, 6-2! Murray is now 2-1 ahead, and by the looks of it will be chilling pretty soon.
Murrance is a lot quicker than Kuznetsov - a lot quicker "accross the ground" as opposed to "through the water" or "in the air" - and he's really asserting himself physically now. Anyway, Kuznetsov nets a forehand, and that's another easy hold.
Murray isn't purring yet, but he played hos way into some form - been forced to find some form - and he's making short work of his service games now. He leads 4-1 in the third.
Murray emphasises the break with a thumping service game to love. In theory, that should be that.
Yes he can! Murray looks a bit more into things now, and while I was watching Edmund make hard work of serving for the set, moved into a 2-0 lead in set 3.
The number 1 player in the world has never lost in the first round of the French Open, though Murray isdoesn't quite need to start worrying about that yet. When he makes it 40-30 on his serve he gives himself a "Let's go!"; will he be able to force an early break?
Murray is pushing Kuznetsov, but Kuznetsov finds power in his serve at 15-30 before a booming backhand and forehand one-two gives him set-point! Then a serve out wide, a clean-up forehand, and it's one set all!
Eight of the last ten points for Murray since ceding the double-break; Kuznetsov will have to serve for the set a second time. Can he hang on?
He's not world number 1 for nowt. Murray quickly retrieves one of those breaks.
Well lookee here! Kuznetsov is one of the few men in the game prrepared to go backd to backhand with Murray, asnd it pays off! The world number 1 isn't at it, and now trails in the second set by a double-break! 5-2 it is!
In commentary, they're speculating about Murray and Lendl - apparently, when Murray was competing in Miami, even though Lendl lives round that way, they didn't meet. Kuznetsov holds!
Kuznetsov has broken Murray ... but can he hold? Murray is hitting very inconsistently today, as he's been doing all year.
Kuznetsov breaks Murray immediately! Murray is so impressed that he applauds!
Kuznetsov doesn't handle hos break-back well, playing a really sloppy game and presenting three break-points with a double-fault. Murray then moves him around the court, he nets on the backhand, and that's the first set to Murray, 6-4!
Kuznetsov wins the first point on Murray's serve, but then the longest rally of the match so far, 17 shots, goes to the Scot. But back comes Kuznetsov as Murray is reactive not proactive, and when a forehand goes long, he has two break-back points! And Murray goes long with the forehad again! Back on serve at 5-4!
Murrance holds for 5-2; is Kuznetsov can hold here, he'll serve for the set thereafter.
Murray gets to 30-all on Kuznetsov's serve but then botches a backhand, only for Kuznetsov to do likewise; break-point. And Kuznetsov then hits long! "That's why Murray's playing this way," says Mac. "He just anticipated that this guy wou;d beat himself."
Obviously Mac thinks Murray needs to attack more if he's to win here - and it's an interesting point. On the one hand, attacking options generally work best and they brought Wawrinka a French titlle, but on the other if it's not his natural game, then employing it agiast some of the best players ever might be a problem. Anyhow, Kuznetsov, who beat Stan last week, has started well and it's 2-2.
Murray was candid in interview the other day,saying that after scaling the peak you sometimes can't help relaxing, and McEnroe is wondering if he's working hard enough. He says that he prefers to practice for short bursts in which every minute counts, but the likes of Federer and Nadal stay out there for longer. Anyway, he loses the first three poins of the match, on his serve, but wins the next three, plays a lovely drop-shot, follows it with a service winner, and he's away.
If Murray wins he'll play Klizan in the next round . Let's hope for more of this...
If that's looking ready...
McEnroe doesn't think Nadal is as heavy a favourite as other people, has Wawrinka third and Murray fourth. He can't see someone like Thiem coming through.
Murray and Kuznetsov are out...