avant-match
LIVE
Andy Murray - Karen Khachanov
French Open men - 5 June 2017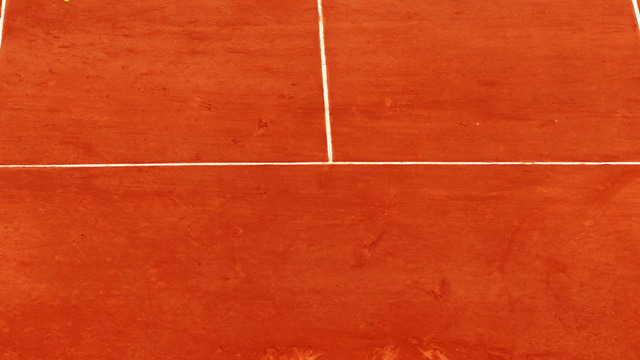 Roland-Garros – Follow the Tennis match between Andy Murray and Karen Khachanov live with Eurosport. The match starts at 11:00 on 5 June 2017. Our live coverage lets you follow all the key moments as they happen.
Head-to-head: see historical stats and visit our detailed profiles for Andy Murray vs Karen Khachanov. Get all the latest on Tennis: fixtures, results and tables.
Murray talks about the recent acts of terrorism in the UK, and adds that he appreciates that people are still coming to watch him play tennis.
MURRAY 6-3 6-4 6-4 KHACHANOV: Khachanov has run out of steam, while Murray is getting into his stride here at Roland Garros. Lovely stuff - quarter-final for the world number one, who has some friendly words for his opponent at the net.
MURRAY 6-3 6-4 5-4 KHACHANOV: Nope, he can't. Andy Murray is not having any of that, and breaks him right back. He's about to serve for the match.
MURRAY 6-3 6-4 4-4 KHACHANOV: Now then. A break back for Khachanov, punishing Murray's loose shots. Can he hold and consolidate?
MURRAY 6-3 6-4 4-3 KHACHANOV: Love hold for Khachanov as the clock ticks on towards the inevitable.
MURRAY 6-3 6-4 4-2 KHACHANOV: The Russian is in his third slam here, and though his time in Paris is running out today, he'll be back next year. What a prospect on clay.
MURRAY 6-4 6-3 3-2 KHACHANOV: Khachanov holds again, but once again with Murray already claiming that early break the Brit isn't putting quite as much pressure on as he might.
MURRAY 6-3 6-4 3-1 KHACHANOV: Murray throws in a couple of errors to keep life interesting, but still holds.
MURRAY 6-3 6-4 2-1 KHACHANOV: Karen Khachanov holds serve as he tries to find a foothold in this match - but what can you do against Murray when he's looking this solid?
MURRAY 6-3 6-4 2-0 KHACHANOV: The Russian is lost on the forehand now. Murray is grimacing a bit; unclear why.
MURRAY 6-3 6-4 1-0 KHACHANOV: Break to start off the third as Murray works hard yet still without too much disgruntled volume.
MURRAY 6-3 6-4 KHACHANOV: Forty minutes for each of the first two sets, and Murray is dominant. The Khachanov forehand is getting a real test and the world number one is playing reasonably well.
MURRAY 6-3 5-4 KHACHANOV: Khachanov asks Murray the serve-it-out question - good for him.
MURRAY 6-3 5-3 KHACHANOV: Murray is blasting some rockets down at Khachanov now in a metaphorical scolding of the young upstart.
MURRAY 6-3 4-3 KHACHANOV: That's just brilliant from Murray, breaking a frustrated Khachanov right back to reclaim the lead in this second set.
MURRAY 6-3 3-3 KHACHANOV: OK, he's going to have to pick it up now. Khachanov draws some errors out of the Murray forehand and breaks serve for the first time.
MURRAY 6-3 3-2 KHACHANOV: A better service game from the Russian, though, holding to love. Mind, Murray has the break so may be happy to save the energy for the time being.
MURRAY 6-3 3-1 KHACHANOV: Murray is serving up aces, Khachanov has been lapsing into double faults, and the match is slipping away from him already.
MURRAY 6-3 2-1 KHACHANOV: A groan from the crowd as Murray breaks the Khachanov serve, but his experience is certainly showing here.
MURRAY 6-3 1-1 KHACHANOV: The sun's looking brighter here and so is Andy Murray. Slightly tougher hold.
MURRAY 6-3 0-1 KHACHANOV: A bright start to the second set for Khachanov, not being cowed by the big occasion.
MURRAY 6-3 KHACHANOV: Beautiful. A hold to love and that's a straightforward first set for Andy Murray - just what he needed.
MURRAY 5-3 KHACHANOV: Still a quiet display from Murray, focused and controlled, and it's working for him.
MURRAY 5-2 KHACHANOV: Andy Murray may rant about drop shots, but he's good at them when he likes to be.
MURRAY 4-2 KHACHANOV: Murray is testing the Khachanov forehand well here, and looking pretty good with it. First break of the day.
MURRAY 3-2 KHACHANOV: That's much harder work for Murray after two straightforward holds. The wind is picking up a bit too.
MURRAY 2-2 KHACHANOV: Karen Khachanov is having to work hard to keep his forehand solid against such a good returner.
MURRAY 2-1 KHACHANOV: Another love hold for Andy Murray, who looks somewhat subdued today. Or maybe just less angry with himself at the moment.
MURRAY 1-1 KHACHANOV: The crowd applaud warmly as Khachanov gets himself on the board early.
MURRAY 1-0 KHACHANOV: Easy hold to love for the world number one - not too many people in the stands watching as yet.
Sir Andrew Barron Murray is about to face Karen Khachanov on Philippe-Chatrier.