avant-match
LIVE
Andy Murray - Kei Nishikori
French Open men - 7 June 2017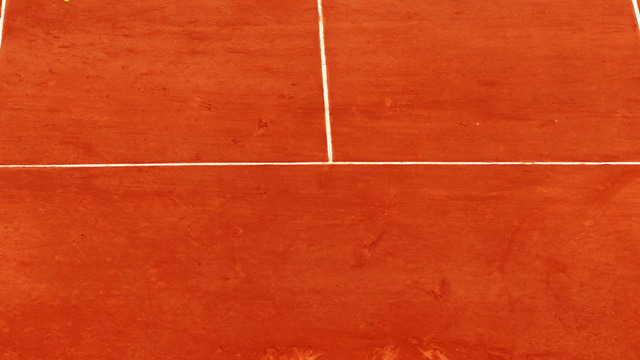 Roland-Garros – Follow the Tennis match between Andy Murray and Kei Nishikori live with Eurosport. The match starts at 14:00 on 7 June 2017. Our live coverage lets you follow all the key moments as they happen.
Head-to-head: see historical stats and visit our detailed profiles for Andy Murray vs Kei Nishikori. Get all the latest on Tennis: fixtures, results and tables.
Anyway, we're about done - come back tomorrow for what should be two brilliant ladies semi-finals. Enjoy your evenings.
Murray really is a brilliant all-court player now, and has one of the best tennis brains on tour. That will, I'd bet, be enough to see him past Wawrinka, but the problem for all the men in the draw is that they're effectively working their nads off for the privilege of being schooled by Nadal. And receiving a lot of money, so it's not all bad.
Murray said it took one of his best matches on clay to beat Wawrinka last year, but he'll fight as hard as he can "and hopefully play some good tennis".
Murray says he needed to put more pace on his shots in the first set - Nishikori was dictating in the first set. The problem was that the wind made the timing hard, but once he could keep his man a bit further away from the baseline, it made a big difference.
So Murray goes on to play Wawrinka, who was superb in demolishing Cilic; admittedly not the hardest task as this level.
Murray 2-6 6-1 7-6 (7-0) 6-1 Nishkori A service winner, a marmalised backhand; Murray is hitting it beautifully now. Nishikori gets a point back, but when he nets a forehand return, faces two match-points; one is all Murray needs, sending an unreturnable serve out wide to the forehand, and reaches his fourth French semi in a row, his 21st overall. What a player he is!
Murray 2-6 6-1 7-6 (7-0) 5-1 Nishkori We're done. Or it looks that way when Murray racks up three break-points; Nishikori saves two but can't do anything when Murray attacks a short second serve. That's four breaks in a row, and Murray is serving for the match!
Murray 2-6 6-1 7-6 (7-0) 4-1 Oh dear - a love-hold for Murray, but one that he arranges thanks to Nishikori making an absolute mess of a driop-shot from on top of the net, with Murray stranded on the baseline. This is very nearly did.
Murray 2-6 6-1 7-6 (7-0) 3-1 Nishikori Murray is an absolute cockroach, getting 0-15 and hanging in the next rally with his usual tenacity, drawing the mistake from Nishikori. Nishikori then wins the next point, but overdoes a forehand to leave himself two break-points down ... he saves one with smash. That's very well done, but the next point is a bazzer, a drop-shot, an exchange at the net, an exchange of lobs, and Murray punishes home the advantage. His tennis brain is so special - not necessarily in terms off tactics, but the way he works out the points as they're being played. That's three in a row for him now.
Murray 2-6 6-1 7-6(7-0) 2-1 Nishikori Surely Murray can't lose from here? I say that, but then I also lumped on before they played the fourth set at Flushing Meadow in September, so I know that he can. He's trying to keep the rallies long, while Nishikori is trying to finish them, and he gets to 30-30 by running around a thunderous forehand down the line. Murray, though, keeps the heid, nudging to a game-point ... Nishikori drop-shots, and Murray does brilliantly to get there, but can't quite direct the ball in; deuce. There follows an ace ... and another! Oh yes! Again Nishikori looks forlorn, but if we've learnt one thing today, it's that that means the square-root of nowt.
Murray 2-6 6-1 7-6 ( 7-0) 1-1 Nishikori This is such a strange match - neither player can play very well for very long. And that's been the thing with Murray throughout his career, or at least for the first chunk - he played to the level of his opponent, and ended up losing at Slams to, er, your Verdascos, your Dimitrovs and what have you. Of late, he's been giving fewer chances away, which is why he's world number 1, but he's been bang at it today - were he to play like this against Wawrinka, he'd lose badly, except you know that he won't. He gets to deuce, but just misses with a forehand, only to quickly redeem himself to bring things back to deuce.And what a miss from Nishikori at the net, missing with a volley! Oh dear, dear! And there's the break back, donated via long forehand!
Murray 2-6 6-1 7-6 (7-0) 0-1 Nishikori An early break! Murray furiously slaps his thigh as the crowd rise to salute Nishikori. Are we heading for a five-set extravaganza?
Murray 2-6 6-1 7-6 (7-0) Nishikori 7-0. Or as the football vidiprinter would read: 7 (seven) – 0. Oh dear, Kei. The Japanese smashes his racquet into the clay.
Third set tie-break: Murray 6-0 Nishikori Nishikori's downfall in six words: long, net, long, double-fault, wide, net. Whoops. The players change ends, probably not for very long though.
Murray 2-6 6-1 6-6 Nishikori Oh Andrew! Murray clips the line with mishit, but it allows him the chance to play a drop-shot ... but his backhand slice clips the top of the net and drops on his side. 0-15, and soon 0-30 when a mishit return sends Murray out wide, opening up the court for a winner. It's never till it's done. Murray, though, plays a fantastic point to close the gap ... but what a backhand from Nishikori to give himself two break-back points! Nishikori puts everything into his return, then into two more groundstrokes, and we have a breaker!
Murray 2-6 6-1 6-5 Nishikori Murray is going for this now, and two big returns give him 0-30, then 15-40 ... and he clinches the break just as my coverage lurches! But it remains clinched nonetheless, and he'll serve for the third set very shortly.
Murray 2-6 6-1 5-5 Nishikori Murray begins the game with his first ace of the match -that's 1-1. He quickly wins two more points, then seals the game with a blistering backhand pass.
Murray 2-6 6-1 4-5 Nishikori What an athlete Andy Murray is! He's 40-0 behind, but somehow makes a drop-shot, then flicks it over the net for a winner! But next point, Nishikori passes him, and Murray will have to serve to stay in the set.
Murray 2-6 6-1 4-4 Nishikori Murray, who has apparently been complaining to his box about his legs and their lack of working, holds to love.
Murray 2-6 6-1 3-4 Nishikori An easy hold for Nishikori, who can't believe his luck. Given how much tennis he's played this week, he really isn't going to win from 2-1 behind, you wouldn't think, but now he might not have to.
Murray 2-6 6-1 3-3 Nishikori As I was saying, Murray looks just about to cede his hard-earned break, finding himself 15-40 behind when he tries an unnecessary drop-shot. In commentary, Mats is vex-up, pointing out that Nishikori is ready to lose, and he converts at the second opportunity! What silly behaviour.
Murray 2-6 6-1 3-2 Nishikori That was a crucial hold from Murray, because in a trice he's got three break-points - tame stuff from Nishikori. But he saves the first ... only to go long with a forehand for no reason whatsoever. It's hard to see him reversing things from here; his demeanour is of someone who knows he's beaten, like Sylvester the Cat after a particularly brutal mauling from Tweety Pie.
Murray 2-6 6-1 2-2 Nishikori Murray could use another row with the umpire here - he's back to looking sluggish. Nishikori, meanwhile, is booming forehands again - but Murray inserts a drop-shot at 15-30, then cleans up with a backhand pass. He wins the next point too, then clinches the game with another drop. That was very nicely done indeed.
Murray 2-6 6-1 1-2 Nishikori Is Nishikori back with us? The baseline artillery is back in full swing, with Murray taking a solitary point in an otherwise commanding service game.
Murray 2-6 6-1 1-1 Nishikori Nishikori earns 15-15 with a tasty smash over Murray, which the Brit almost hoicks back over the net from the front row of the stands... From then on, the errors creep into the Japanese ace's game and it's a comfortable hold.
Murray 2-6 6-1 0-1 Nishikori Nishikori eases fears of a third-set whitewash with an early hold.
Murray 2-6 6-1 Nishikori Nishikori has nowt for Murray now; Murray is playing like number 1 in the world. But he allows 40-15 to become 40-30; there's a bit pf pressure. No there isn't. Five games in a row for Murray, since he had that first serve taken away for a time violation, and Nishikori will have to do something different when he comes back after change of ends.
Murray 2-6 5-1 Nishikori Maurice Mentum is all with Murray now, who gets to 15-30 in his quest for the double-break. He is absolutely dominating the rallies now, and finds a fantastic angle on the forehand, hitting obliquely and with topspin, to give himself two chances of effectively clinching the set. Nishikori saves the first with a backhand winner down the line, then pulls out of the way when Murray belts a forehand, only for the ball to drop in. Silly boy.
Murray 2-6 4-1 Nishikori Just when it looks like Murray's taking over, he plays a sloppy service game, forced to save a break-point with a second-serve slice - that was excellent and not entirely in character. But a double-fault follows and Murray has a result when a net-cord sits one up for Nishikori, who can't the ball back over. That was a major oversight; "let's go" hollers Murray when he closes out the game.
Murray 2-6 3-1 Nishikori Murray needs a fast start in this game to stoke his fire, and though Nishikori wins the first point with an ace, he fights back immediately. And quickly it's 15-40, a great defensive lob forcing an error that he knew would come - Nishikori is on borrowed time now, and Murray is making sure he knows that he knows. A double-fault follows, and there it is; a break to the umpire.
Murray 2-6 2-1 Nishikori Murray pastes a forehand winner at 15-0 - he's not managed many of those so far today. But from 40-0 he's pegged back to 40-30, and they end up at deuce courtesy of a big forehand and an overhead. Murray then ends up rowing with the umpire, who calls a time violation when the ball's in the air; he's not impressed, and wins the next point out of pure spite - "come on, let's go," he threatens - then another. Lovely stuff, and maybe Murray has his edge back.
Murray 2-6 1-1 Nishikori Murray just can't make an impression on Nishikori's serve - he's a little tight, and yerman is playing very nicely indeed. Love hold.
Murray 2-6 1-0 Nishikori Nishikori is doing a great job of staying in the rallies, then increasing the power when Murray least expects it. So he gives Murray pause in this game, but Murray is playing a little better now and he's on the board in set 2.
Murray 2-6 Nishikori I don't think anyone expected Nishikori to come out and play this well, but play this well he is, and very quickly, the first set is all his thanks to a love-hold. That was too easy.
Murray 2-5 Nishikori Murray isn't swinging freely, reckons Mats - and certainly not as freely as Nishikori.So it's not great shock when he's forced to defend two break-points Nishikori only needs one and will serve for the set shortly!
Murray 2-4 Nishikori Nishikori's backhand, the best in the game according to R. Federer, helps him through the start of the game. But Murray fights back to 30-all, and is eyeing the break-back opportunity when he's caught on his heels by a brilliantly-disguised drop-shot. Seconds later, it's 4-2.
Murray 2-3 Nishikori Murray tries his third drop-shot of the match at 15-0, and for the first time, it works. He plays really nicely to get to 40-0, finds himself under pressure in a rally at 40-15, but comes through it well.
Murray 1-3 Nishikori A long rally at 15-0 looks to be moving in Murray's favour, but then Nishikori ups the pace of his forehand, gets the ball nice and deep, and sets up a love game.
Murray 1-2 Nishikori Two double-faults in the game, given a time violaton warning, and Murray has lost his serve!
Murray 1-1 Nishikori There's some kerfuffle about the light being too bright before Nishikori serves for the first time. Already, Murray's backhand looks like the match's dominant shot - he's just got so many options - though it's three consecutively brilliant forehands that give him 15-30. If Nishikori just stands there and hits like this, he's going to lose - he needs to vary the pace, come to the net, all that kind of thing. And he does, also holding to 30.
Murray 1-0 Nishikori Murray opens up with an ace, and holds to 30. The way he's played the last couple of rounds and the way Nishikori has played, bagelled twice, it's hard to see this one being that close.
Right then: Murray and Nishikori are good to go.