avant-match
LIVE
João Sousa - Novak Djokovic
French Open men - 31 May 2017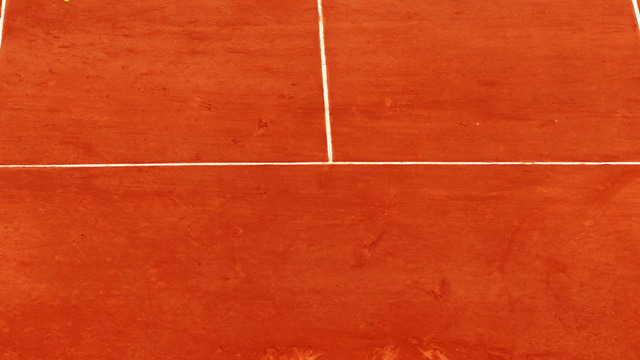 Roland-Garros – Follow the Tennis match between João Sousa and Novak Djokovic live with Eurosport. The match starts at 11:00 on 31 May 2017. Our live coverage lets you follow all the key moments as they happen.
Head-to-head: see historical stats and visit our detailed profiles for João Sousa vs Novak Djokovic. Get all the latest on Tennis: fixtures, results and tables.
Novak Djokovic says he is beginning to find his "zone" after his victory over Joao Sousa at the French Open.
Djokovic: I found my zone, which is encouraging
GAME,SET AND MATCH! - DJOKOVIC 6-1 6-4 6-3 SOUSA. Djokovic is into round three courtesy of a straight sets victory that started in routine fashion before becoming slightly more tricky in the latter stages. The Serb breaks again at the second time of asking to keep his title defence on track.
DJOKOVIC 6-1 6-4 5-3 SOUSA. Nole consolidates from deuce, but he's made to work very hard as he saves two BPs. The Serb's struggled to hit any heights in this set. Sousa has given it his all, but it looks in vain. Djoker is one game away from victory.
BREAK! - DJOKOVIC 6-1 6-4 4-3 SOUSA. A second double fault of the match and a weak volley contribute to Sousa's downfall. Novak goes in for the kill and crunches a deep forehand to the baseline that Joao can't return in court.
DJOKOVIC 6-1 6-4 3-3 SOUSA. Djokovic having to contend with his own dip and the fact Sousa is playing his best tennis of the contest. It's a frustrating service game for the Serb but he edges through, saving a BP from deuce. Fair play to Sousa, he made that game a joy to watch with some never-say-die tennis. If only he'd start the match like this...
DJOKOVIC 6-1 6-4 2-3 SOUSA. Djokovic slams his racket to the floor in frustration as he lets the opportunity to break pass him by. He's given Sousa enough of a foothold to make this more competitive than it was looking early on. The Portuguese comes through from deuce and maintains that scoreboard advantage.
DJOKOVIC 6-1 6-4 2-2 SOUSA. Still with serve. Djokovic doing enough to stay on course.
DJOKOVIC 6-1 6-4 1-2 SOUSA. Novak not over-exerting himself as Sousa's improved service rhythm sees him through another easy hold. Djoker more concerned about a hole or mark on the court. The ground staff appear to inspect it, but all seems well.
DJOKOVIC 6-1 6-4 1-1 SOUSA. Nole levels with a hold to 30. The crowd struggling to get into this match. Sousa is giving it his all, but no-one truly believes he can halt the Djoker express.
DJOKOVIC 6-1 6-4 0-1 SOUSA. A fine response from Sousa. Hard to decide whether he has warmed to the occasion or Novak has taken the foot off the gas. perhaps it's a bit of both as the Portuguese gets off to a decent start in set 3 with a hold to 30.
SET! - DJOKOVIC 6-1 6-4 SOUSA. Djoker is made to work from deuce but secures the two-set cushion when his opponent drags wide. It wasn't the procession of the first set, but Djoker remains on course to clinch a place in round three in good time.
DJOKOVIC 6-1 5-4 SOUSA. Novak blasts a backhand down the line just long to give Sousa the game to 15. The second seed will now serve for the set.
DJOKOVIC 6-1 5-3 SOUSA. Djokovic cruising towards a two-set lead. He holds to love, concluding with a rasping ace down the middle T. Sousa must now hold to delay what seems inevitable.
DJOKOVIC 6-1 4-3 SOUSA. It's a hold to 30 for Sousa who is still working hard to try and make a match of this. However, Djokovic looks assured and unruffled.
DJOKOVIC 6-1 4-2 SOUSA. No slip up this time as Djoker consolidates. Sousa making more of a fight of this now, but he's still some way short of truly troubling the reigning champion.
BREAK! - DJOKOVIC 6-1 3-2 SOUSA. Beware the wounded animal. Sousa clearly angered the beast as Nole responds by breaking once more to regain the initiative in this set.
BREAK! - DJOKOVIC 6-1 2-2 SOUSA. Well, that wasn't in the script. A real lull from Nole who serves up a double fault to gift Joao a double BP. Nole saves one but then fires wide and the Portuguese wrestles the break back.
BREAK! - DJOKOVIC 6-1 2-1 SOUSA. Novak just keeps knocking on the door. He taps the first two times as Sousa digs deep by contributing to some lovely rallies before being blown away on the world number two's third attempt. It's another early break and hard to see Djoker having any real issues in getting this done in timely fashion.
DJOKOVIC 6-1 1-1 SOUSA. Novak refuses to give his opponent any impetus, brushing him aside with a love hold to level maters.
DJOKOVIC 6-1 0-1 SOUSA. It was on his mind for almost the whole of the opener, but not in the second set - Joao gets on the board for the loss of one point. Can he at least make a fight of this?
SET! - DJOKOVIC 6-1 SOUSA. Joao goes head-to-head with Dokovic at the net, but glides a shot from outside the tramlines just wide at 30-30. It tees up set up point for the world number two, who duly converts it to clinch the opener in 29 minutes.
DJOKOVIC 5-1 SOUSA. Joao is facing the bagel, but produces arguably his point of the set to force deuce. The Portuguese is buoyed by this and goes on to secure the hold! He's on the board, but Nole is up next looking to make it a breadstick instead...
DJOKOVIC 5-0 SOUSA. This is proving to be a real stroll for Novak. He's in total control. Sousa already in damage limitation mode. Can he get on the board and avoid the bagel?
BREAK! - DJOKOVIC 4-0 SOUSA. It's just too good from Djoker. He toys with Joao, sending him from side to side before claiming the double break with a nonchalant touch at the net.
DJOKOVIC 3-0 SOUSA. Joao showing a bit of fight as he pushes the Serbinator to deuce. Nole slings it up a gear and goes on to consolidate.
BREAK! - DJOKOVIC 2-0 SOUSA. Nole quick out of the traps and Sousa may well have that sinking feeling already. It's an immediate break and the Serb looks sharp.
DJOKOVIC 1-0 SOUSA. The reigning champion eases onto the board.