avant-match
LIVE
Stan Wawrinka - Gaël Monfils
French Open men - 5 June 2017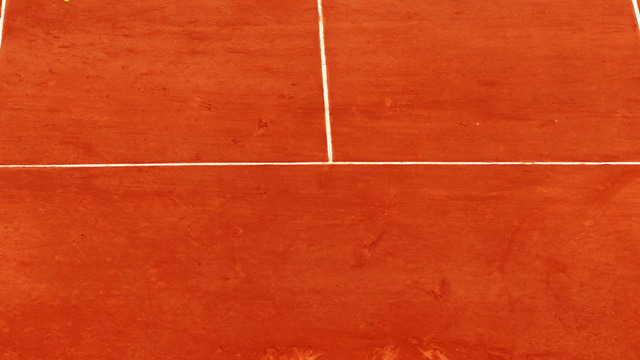 Roland-Garros – Follow the Tennis match between Stan Wawrinka and Gaël Monfils live with Eurosport. The match starts at 11:00 on 5 June 2017. Our live coverage lets you follow all the key moments as they happen.
Head-to-head: see historical stats and visit our detailed profiles for Stan Wawrinka vs Gaël Monfils. Get all the latest on Tennis: fixtures, results and tables.
WAWRINKA 7-5 7-6 6-2 MONFILS: Gael Monfils saves match points but once Stan Wawrinka moves into the advantage he doesn't let it slip - some lovely backhand hits as usual. The pair embrace at the net.
WAWRINKA 7-5 7-6 5-2 MONFILS: Well, that was quick too. Swift hold to love for Monfils, but Wawrinka knows he has more than one chance to get this done now.
WAWRINKA 7-5 7-6 5-1 MONFILS: After epic battles in the first two sets, this is flying by now. 20 minutes gone and Monfils needs to serve to stay in the match.
WAWRINKA 7-5 7-6 4-1 MONFILS: A grumble around the court now as Monfils runs out of ideas to counter the attack of Wawrinka.
WAWRINKA 7-5 7-6 3-1 MONFILS: Gael Monfils is trying to power back at Wawrinka but the Swiss is meeting fire with fire.
WAWRINKA 7-5 7-6 2-1 MONFILS: The Frenchman glares at the mark on the court, albeit much too late - Wawrinka has broken serve for the first time in this third.
WAWRNKA 7-5 7-6 1-1 MONFILS: Wawrinka holds too. Whoever does win this will face Marin Cilic - Kevin Anderson has retired in the second set.
WAWRINKA 7-5 7-6 0-1 MONFILS: Again, Monfils off to a flier at the start of the set, this time with a sparkling hold.
WAWRINKA 7-5 7-6 MONFILS: Courageous from Wawrinka in the face of Monfils and the crowd combining to come from behind. Fifth set point and Wawrinka sends it down the flank, leaving the Frenchman scrabbling on the floor.
WAWRINKA 7-5 6-6 MONFILS: Into a breaker after Monfils clings on to serve despite a double fault.
WAWRINKA 7-5 6-5 MONFILS: The pattern here seems to be that Monfils puts the pressure on for a couple of points before Wawrinka works out what's happening and hits back.
WAWRINKA 7-5 5-5 MONFILS: A very good hold to love for Monfils, as Wawrinka tries to defend in a rather slack way.
WAWRINKA 7-5 5-4 MONFILS: But Wawrinka holds too, if not quite as spectacularly in his athletic display as Monfils. The Frenchman needs to hold to stay in the second.
WAWRINKA 7-5 4-4 MONFILS: Lovely from Monfils, springing back into action after that short break, showing his readiness and aplomb to jump.
Wawrinka is having his glutes and hips looked at.
WAWRINKA 7-5 4-3 MONFILS: Stan Wawrinka saves two break points, looking a little distracted. He holds and then calls for the trainer.
WAWRINKA 7-5 3-3 MONFILS: The Swiss is hitting some good forehand winners at the moment, but not enough to break.
WAWRINKA 7-5 3-2 MONFILS: That sensational game from Monfils is countered very quickly by Wawrinka, who wants none of that resurgence here, thank you very much.
WAWRINKA 7-5 2-2 MONFILS: This is such an odd performance from Monfils, stepping up now to match Wawrinka, and serving a few aces to love.
WAWRINKA 7-5 2-1 MONFILS: Good work from Wawrinka, fending off Monfils's attempts to attack.
WAWRINKA 7-5 1-1 MONFILS: Really muted reaction from the crowd here as Wawrinka breaks right back. Monfils needs some sparkle, and swiftly.
WAWRINKA 7-5 0-1 MONFILS: A really bright start from Monfils, looking lively and turning the screws on Wawrinka as he did at the beginning of the first.
WAWRINKA 7-5 MONFILS: Strong end of the set from Wawrinka after Monfils simply fell away. He serves an error-strewn game. The former champion takes the first in just under an hour.
WAWRINKA 6-5 MONFILS: Monfils is moving perfectly well now, taking Wawrinka all the way to deuce.
WAWRINKA 5-5 MONFILS: OK, maybe he was just distracted. That's another strong service hold from the Frenchman.
WAWRINKA 5-4 MONFILS: This is a bit worrying. Wawrinka breezes through this - is Monfils hurt or just distracted?
WAWRINKA 4-4 MONFILS: Wawrinka gets the break back after Monfils rolls an ankle and spends the rest of the game worrying about it.
WAWRINKA 3-4 MONFILS: So the Swiss takes his seat a break down. Those cameras are fizzing by the side of the court again.
WAWRINKA 2-4 MONFILS: This is very good from Monfils so far, with the stands filling up nicely to watch their man.
WAWRINKA 2-3 MONFILS: Wawrinka is trying to pump himself up for this but Monfils, with the crowd behind him, makes the breakthrough.
WAWRINKA 2-2 MONFILS: Eurosport expert Mats Wilander reports that the wind is giving both players some trouble, moving in the opposite direction than usual on Chatrier.
WAWRINKA 2-1 MONFILS: Ten minutes for this game, and already in this match Wawrinka has had to save five break points. Will Monfils regret not capitalising sooner?
WAWRINKA 1-1 MONFILS: Hold for the Frenchman too. Three minutes per game so far.
WAWRINKA 1-0 MONFILS: Wawrinka is of course a former champion here. There's a little groan from the crowd as Monfils fails to push him as far as break point.
Stan Wawrinka and Gael Monfils are next up on Chatrier. Should be an interesting atmosphere.