avant-match
LIVE
Caroline Garcia - Karolína Plíšková
French Open women - 7 June 2017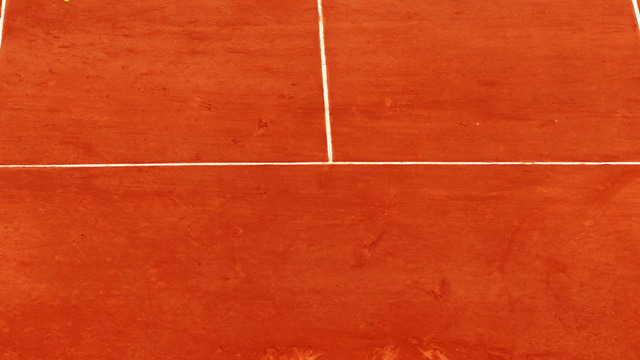 Roland-Garros – Follow the Tennis match between Caroline Garcia and Karolína Plíšková live with Eurosport. The match starts at 14:00 on 7 June 2017. Our live coverage lets you follow all the key moments as they happen.
Head-to-head: see historical stats and visit our detailed profiles for Caroline Garcia vs Karolína Plíšková. Get all the latest on Tennis: fixtures, results and tables.
So I guess that's us - we'll see you for that.
Garcia 6-7 (3-7) 4-6 Pliskova Ooooh - suddenly it's 0-30, and Pliskova is two points way from the semis. But Garcia keeps going, nabbing one point back ... but then a perfectly-judged lob from Pliskova leaves her marooned at the net, and she's facing two match-points! And one is all it takes! Pliskova really steps into a forehand and Garcia gets it back, but leaves the court open and her opponent really isn't the sort to turn that gear down. She'll play either Svitolina or Halep in the next round.
Garcia 6-7 (3-7) 4-5 Pliskova Er, another easy hold.
Garcia 6-7 (3-7) 4-4 Pliskova Not gonna lie, as the yout say - this is not the better of the two quarters currently in progress. Another service game, another hold.
Garcia 6-7 (3-7) 3-4 Pliskova Pliskova holds to 15; we're going to have another breaker, in which you might now fancy Garcia, who is looking much more solid.
Garcia 6-7 (3-7) 3-3 Pliskova Impressive serving from Garcia now; it's been a while since we've been close to a break.
Garcia 6-7 (3-7) 2-3 Pliskova Now it's Pliskova's turn to play a quick service-game. I'd not be surprised to see her win another breaker.
Garcia 6-7 (3-7) 2-2 Pliskova Excellent service game from Garcia, who's upped her level at the start of this set - perhaps because the wind isn't as on top.
Garcia 6-7 (3-7) 1-2 Pliskova Garcia loses a break-point and Pliskova doesn't wait to be asked again, pushing home the advantage.
Garcia 6-7 (3-7) 0-1 Pliskova I'd not be especially surprised if Pliskova sneaked a couple of games here while Garcia thinks about that breaker - he types as Garcia gets to 0-30. Pliskova holds, though
Garcia 6-7 (3-7) Pliskova Garcia fights her way back into the breaker, but then that steadiness is just too much. Pliskova is very comfortabkle with her game, limited as it is, and it's showing; a backhand down the line gives her the set at the first time of asking!
Garcia 6-6 (1-3) Pliskova Will Garcia be able to hit more winners than unforced errors? In general I'd lean towards the shot-maker, but I actally think Pliskova's more consistent and steady game will take this. And she's first in with a mini-break.
Garcia 6-6 Pliskova Will it take these two longer to play one set than it'll taken Svitolina to despatch Halep? Garcia massacres a backhand volley after a booming return sends Pliskova wide - it gives her 15-all, and eventually she fights her way to deuce. In vain, because we're about to play a tie-break.
Garcia 6-5 Pliskova I'm not sure Garcia has played a single easy service game, and finds herself fighting deuce again. But she responds with two first serves, only to dump a backhand into the net to find herself back where she started. Pliskova then grabs a break-point, foiled with a nails serve, we go backwads and forwards again, and what a crucial game this is; 14 minutes and counting. Eventually, Garcia clinches it with a big serve, and Pliskova will now try to force a breaker.
Garcia 5-5 Pliskova Pliskova, 0-15 down, crap thigh-tatt on show, covers the court brilliantly to flick a forehand winner cross-court. But Garcia isn't letting go, getting to 30-40 ahead, only to lose out to a net-cord as both players rush in! Garcia, though will not be denied, andna forehand winner gets us back on serve!
Garcia 4-5 Pliskova Garcia gets to 40-30, but then tightens up and chucks in a double-fault. They go backwards and forwards from deuce for a bit, but eventually Garcia seals the game with a big ace out wide. Pliskova will have to serve for it.
Garcia 3-5 Pliskova Pliskova's one-two is working for her: tthe serve out wide, the clean-up winner into the space. She's quickly at 40-0, but then Garcia fights back to deuce, only to go long with a groundstroke when well in the rally and then net with the whole court open. Oh dear.
Garcia 3-4 Pliskova Pliskova has a very poor tatt in an unusual place on her arm; when did MUM or an anchor become not good enough? Anyway, Garcia steps into a couple in this game, and she's pushing now.
Garcia 2-4 Pliskova Again, Garcia can find a winner here and there, but not consecutively, so Pliskova holds comfortably enough.
Garcia 2-3 Pliskova Garcia is much better athlete than Pliskova, but doesn't quite have the strength of mind yet. Still, she holds comfortably enough; can she put together a succession of returns?
Garcia 1-3 Pliskova Garcia is managing the occasional good shot, but can't quite put it together for long enough to threaten serve. Pliskova holds, and isn't actually playing that well.
Garcia 1-2 Pliskova Break for Pliskova, who is moving really well and hitting pretty hard as well.
Garcia 1-1 Pliskova Pliskova is into her serving stride quicksmart, holding to 15. This is going to be a tight one, I daresay.
Garcia 1-0 Pliskova A fairly straightforward hold from Garcia; can she find the same intensity that saw her beat Cornet, when she doesn't detest her opponent?
Rght then, let's have some Garcia and Pliskova.