avant-match
LIVE
Elina Svitolina - Simona Halep
French Open women - 7 June 2017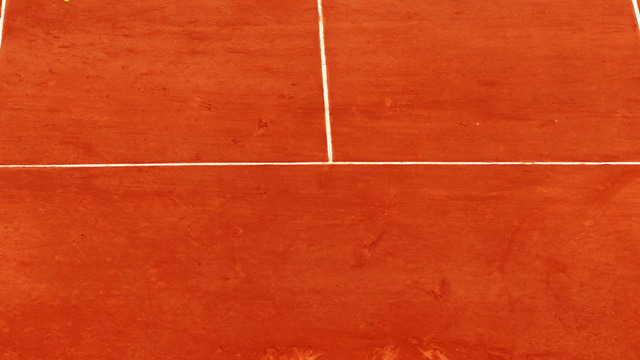 Roland-Garros – Follow the Tennis match between Elina Svitolina and Simona Halep live with Eurosport. The match starts at 14:00 on 7 June 2017. Our live coverage lets you follow all the key moments as they happen.
Head-to-head: see historical stats and visit our detailed profiles for Elina Svitolina vs Simona Halep. Get all the latest on Tennis: fixtures, results and tables.
So, let's hope the semis are as good as that; they just might be.
Svitolina 6-3 6-7 (6-8) 0-6 Halep this is easy now. Three quick points, three match-points ... and there's an ace to finish it! What a match! What a performance from Halep! She's come back from a set and 5-1-down to win with plenty to spare! She attacked everything she could, she defended everything thrown at her, and her reward is a semi-final against Pliskova. should also say that Svitolina was brilliant too - her approach in going for everything made for a great game, and she'll be back; she just needs more consistency when things aren't going perfectly.
Svitolina 6-3 6-7 (6-8) 0-5 Halep Oh dear. There's nothing like the same pop on Svitolina's shots now; she looks bedraggled and befuddled, not quite believing what's happened to her. She was about to win, now she's about to lose, without quite knowing why. The thing is Halep is amazingly tough; she pursued every point, hit through the ball with every shit, and she's pretty bloody good. So is Svitolina, but she no one can play their best through a match; the difference in this one is the difference between the bottom levels.
Svitolina 6-3 6-7 (6-8) 0-4 Halep Halep has held her nerve so well in this game, going for her shots on the biggest points and now reaping the rewards. At 30-15, her consistency is just too much, and Svitolina shrieks in fury when her mistake gives game-point. She manages to save one but not two.
Svitolina 6-3 6-7 (6-8) 0-3 Halep Svitolina isn't finished though, saving a break-point - a virtual match-point, you'd think - but when she gets to advantage, Halep's defence is just too good. And next comes another long, punishing rally, Halep outlasting yergirl who looks crestfallen when a forehand drops long; it's not surprise that the next point is a short one. That's a double-break, and Svitolina is surely done.
Svitolina 6-3 6-7 (6-8) 0-2 Halep Svitolina has taken that second set-setback really badly, and is struggling to keep up now. By the standards of this match, this is a comfortable hold.
Svitolina 6-3 6-7 (6-8) 0-1 Halep Halep needed five set-points there, and also saved a match-point, after coming back from a double-break; Svitolina has already played the game of her life, and is still out there! Halep races to 0-40, and though Svitolina saves two break-points, she then nets a backhand, and perhaos we've seen the final momentum shift of the afternoon.
Svitolina 6-3 6-7 (6-8) Halep Now it's Halep with her fifth set-point ... AND SHE GETS IT VIA NET CORD! AH HAHAHAHAHA! That was an absolutely fantastic, invigorating, affirming set of tennis, and now we're getting another!
Svitolina 6-3 6-6 (6-6) Halep Halep takes advantage of three bad Svitolina points, but Svitolina responds brilliantly to win two in a row and bring up a match-point. Halep responds brilliantly, going for the line, hitting it, and putting a winner into the opposite corner.
Svitolina 6-3 6-6 (4-2) Halep Svitolina looks really calm and she takes the first mini-break, brave enough to attack a forehand return.
Svitolina 6-3 6-6 Halep Halep is buzzing, up 0-40 and controlling rallies with her forehand. Svitolina saves two set-points, though ... and a third, when Halep can't decide which winner to hit, then misses with a backhand! She remains undeterred though, three gigantic backhands earning her a fourth set-point. Svitolina, though, hangs in there, staying in a rally then sending a looping forehand winner past Halep and in, before forcing a breaker!
Svitolina 6-3 5-6 Halep Svitolina, who has never made the semis of a major, must be wondering if she's let it slip. She gets 0-30 ahead though ... except within seconds, she's game-point down. There's a lot of shouting from both ladies now, it's like a metronome, and Svitolina makes her way to deuce, then advances to the net to deposit the simple volley which'll give her match-point. Except Halep bends a fantastic winner around her! And she wins the next point too, ahead in the set for the first time!
Svitolina 6-3 5-5 Halep Brilliant tennis from Halep to get 0-30; has momentum changed? She's varying the angle, spin and pace really well now, and maybe it's not too late! A huge forehand cross-court gives her the break back, and what a game she played there! Is this the momentum shift she needs? This is a really good match now, both players playing aggressive, enterprising, courageous tennis.
Svitolina 6-3 5-3 Halep Halep fights back from 0-30, and then Svitolina goes long with a groundstroke. Halep is hollering something fierce as she's sent scurrying along the baseline and into the net, but eventually the pressure is too much; deuce. And what a point from Svitolina when Halep has advantage, one forehand setting up another, walloped cross-court into the corner; except Halep isn't having it, winning the next two! Svitolina will have to serve for it again!
Svitolina 6-3 5-2 Halep Six points in a row for Halep, as she races to 0-30-up. But Svitlina quickly gets one point back, then takes on an almighty forehand, and it pays off! Halep, though, is not letting go, and with break-point in her favour, she pings forehand after forehand into the corners until one is too good.
Svitolina 6-3 5-1 Halep A love-hold for Halep, but Svitolina will be back to serve for it.
Svitolina 6-3 5-1 Halep Svitolina's combination of power and anticipation is really special. At deuce, she decides where Halep is going, so gets there first to anihilate a forerhand winner, cross-court, then holds her nerve to force the forehand error. She's a game away!
Svitolina 6-3 4-1 Halep Halep is really struggling now - just as I predicted - and when a forehand goes into the net, she's broken to love! This is very nearly over!
Svitolina 6-3 3-1 Halep Love hold for Svitolina, her second of the set, and she'll feel like she's nearly there!
Svitolina 6-3 2-1 Halep An unforced error on the forehand, hit long, puts Halep 15-30 down; she responds with a winner. They battle to deuce, Svitolina goes long with backhand return, and Halep is into the second set.
Svitolina 6-3 2-0 Halep This is running away from Halep now - a love hold from Svitolina piles pressure on this next service game; she'll feel like she's nearly out.
Svitolina 6-3 1-0 Halep Svitolina is so quick on anything short, and at deuce she opens her shoulder to absolutely monster a forehand winner. Seconds later, she's up a set and a break! I'm really pleased I took the generous odds on Halep five minutes ago.
Svitolina 6-3 Halep Halep wins wonderful rally for 0-15, then quickly extends her advatnage. But Svitolina fights back with two rare quick points, and then finds her backhand to pound a winner down the middle that's just too quick; set-point. Set-point saved! But Svitolina quickly arranges another, and this time Halep goes long with a forehand. It was harder work than first seemed likely, and I tihnk I'd still bet on Halep to win, but she'll have to do it the hard way.
Svitolina 5-3 Halep As is did for Ostapenko against Wozniacki yesterday, momentum has switched here. Halep might still lose the set, but she's probably the better player now; Svitolina's hot streak has cooled. She's starting to get annoyed, and she'll now try and serve for the set a second time.
Svitolina 5-2 Halep Halep earns herself two break-points and Svitolina quickly rinses the first. Then, well into the rally, she hits a loopy one and Halep can't decide whether it's going in or out. So she waits, by which time she's sacrificed the initiative, and Svitolina quickly presses home the advantage. But Halep arranges another break-point, and this time Svitolina misses with a forehand! One break back!
Svitolina 5-1 Halep Bigup Svitolina for finding her absolute peak at the absolute right time. Everywhere Halep hits, there she is waiting, lurking at the net to flick down a slam and bring up set-point; Halep works her along the baseline to force the error. But she still can't get a read on wehere Svitolina will explode next, so we go backwards and forwards with deuce for a bit before finally, Halep gets on the board. Svitolina will need to serve for it.
Svitolina 5-0 Halep Halep racks up three break-points and is control of the next rally, but can't decide which shot to play so slices into the net. Then Svitolina powers a forehand that's too much and then reaches deuce, only to waste her hard work with an unforced error. Luckily for her, Halep does likewise, and we have two more deuces - Halep saves one game-point with a gorgeous forehand return, taken early and high - but eventually it's 5-0!
Svitolina 4-0 Halep Halep is struggling to withstand the onslaught here, quickly faced with two more break-points. She saves them, but a pair of monstrous backhands earn another, sealed with an inside-out cross-court forehand! She is nailing this!
Svitolina 3-0 Halep Svitolina has started this match far more confidemtly and aggressively than Halep; perhaps her progress through the draw has been too serene. But at the end of fantastic rally - 14 shots long - dominated by Svitolina's booming forehand, Halep finds one of her own to get deuce. Oh yes! There's another, wrongfooting her opponent for break-point; it's saved, in another long rally. This is going to be quite a contest; one in which Svitolina retains her advantage. Already, Halep has tried to cover up and tried to slug, to no avail.
Svitolina 2-0 Halep Halep quickly finds herself facing two break-points, but saves both. Still, though Svitolina keeps on her and a big forehand gets her a break!
Svitolina 1-0 Halep A love-hold for Svitolina.