avant-match
LIVE
Milos Raonic - John Isner
Wimbledon men - 11 July 2018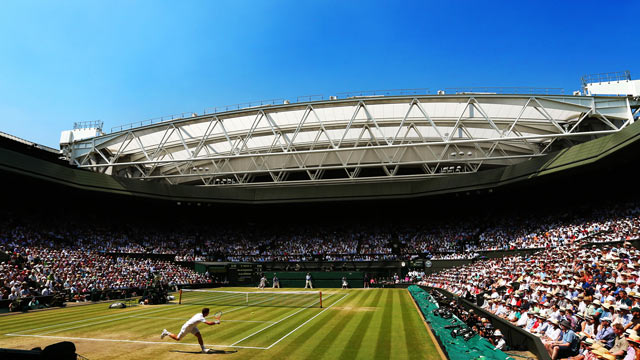 Wimbledon – Follow the Tennis match between Milos Raonic and John Isner live with Eurosport. The match starts at 14:00 on 11 July 2018. Our live coverage lets you follow all the key moments as they happen.
Head-to-head: see historical stats and visit our detailed profiles for Milos Raonic vs John Isner. Get all the latest on Tennis: fixtures, results and tables.
Thanks for your company - stick with me for the end of the final quarter.
Raonic 7-6(5) (7)6-7 4-6 3-6 Isner
Raonic is gone, Isner isn't, and he breaks again! He'll meet Kevin Anderson in Friday's semi - that'll be one for the purists - and his first ever in a Slam.
Raonic 7-6(5) (7)6-7 4-6 3-5 Isner
Isner holds to love, and he can smell the semis now. He knows he can't mess this up, and so does Raonic.
Raonic 7-6(5) (7)6-7 4-6 3-4 Isner
Isner holds and Raonic looks finished, still putting it in but clearly hurt and possibly broken. They end up playing deuce and on advantage Isner misses an overhead! That does not happen often. So Raonic holds on ... for now.
Raonic 7-6(5) (7)6-7 4-6 2-3 Isner
Raonic is hobbling now and Isner sees his chance. He breaks, and three holds will take him home.
Raonic 7-6(5) (7)6-7 4-6 2-1 Isner -
Boom boom boom boom ba-boom. Both men hold. .
Raonic 7-6(5) (7)6-7 4-6 1-0 Isner -
Isner gets to 0-30 and eventually we find ourselves playing a succession of deuces ... but at the end of it all, Raonic holds.
Raonic 7-6(5) (7)6-7 4-6 Isner -
Raonic wins the first point of the game, so down comes a monumental serve out wide - he does well to get a frame on it. Still, he wins the next point via double fault, only to underhit a backhand down the line with plenty of space at which to aim. But then another double fault cedes a break point - it lasts as long as you'd expect. Raonic then saves the first set point that Isner arrange ... but not the second! Isner is a set away from his first ever Grand Slam semi, and he's by far the better player at the moment.
Raonic 7-6(5) 6-6 (7)6-7 4-5 Isner -
Raonic makes Isner serve for it. That's all I got.
Raonic 7-6(5) (7)6-7 3-4 Isner -
Isner consolidates and Raonic holds to love. That pleasant little interlude appears to be over.
Raonic 7-6(5) (7)6-7 2-3 Isner -
Is it happening for Isner now? Again he gets to 30 on the Raonic serve but this time Raonic only has 15 ... and look at that! Quickly, it's 15-40, then a backhand return is too good (relatively speaking) and we have ourselves a break!
Raonic 7-6(5) (7)6-7 2-1 Isner -
Guess what? Some more holds of serve! but Isner is making a bit more of an impression on Raonic's now, again making it to 30.
Raonic 7-6(5) (7)6-7 1-0 Isner -
Isner is "pumped now, and gets 0-15 which makes him extremely excited. But raonic holds to 30 which by the standards of this match makes that a very close thing.
Raonic 7-6(5 (7)6-7 Isner -
Raonic gets the first set point, but a booming serve allows Isner to dictate the point and finish it with an overhead. He wins the next point too, so now it's him with set point ... and again he has a chance when Raonic doens't put away his volley, but from the forehand corner he can't curl a pass back inside the lines. But then Isner clatters back a return, and Raonic, at the net, can't make his half-volley, wafting wide! Chance for Isner, a huge serve down the middle, and Raonic's return floats harmlessly over the baseline!
Raonic 7-6(5) 6-6 5-5 Isner -
Immediately, Raonic gets the mini-break, but immediately, Isner responds. We carry on on serve, but then at 5-4 Inser he has a chance on a short ball with Raonic marooned at the net, only to hit the ball right into it. He's vexed and rightly so.
Raonic 7-6(5) 6-6 Isner -
Brilliant serving from Raonic, so here comes another breaker.
Raonic 7-6(5) 5-6 Isner -
Isner's back serving and at 30-15 gets into a row with the umpire - I didn't see what it was about because I was focused on Nadal coming back from the toilet; maybe politics. He serves out to 15, and Raonic must now hold for another breaker.
Raonic 7-6(5) 4-4 Isner -
Gosh, that was quick, even by the standard.
Raonic 7-6(5) 4-3 Isner -
Amazingly, we're still on serve here. I wonder if Raonic will ever improve his hands enough to win a Slam - I can't imagine it'll be this year, because how's he beating Del Potro or Nadal? I've no idea?
Raonic 7-6(5) 2-3 Isner -
We're still on serve, with Isner closing to 15-16 in aces. There's not a whole lot else going on - we're yet to savour the thrill of a break point.
Raonic 7-6(5) 0-1 Isner -
We enjoy the first baseline rally of the match, after 46 minutes. It doesn't last long, but Isner wins it and holds to 15.
Raonic 7-6(5) Isner -
A belting return from Raonic in response to Isner's first serve of the breaker gives him the mini-break. Will that be enough? It won't need to be! Raonic steams to a 5-1 lead, looking the much better player that he is, but when he has set point at 6-2, offers a serve right into Isner's slot which is returned with interest. Isner then slings down a 122mph second serve which helps him to 6-4 and a volley at the net makes 6-5 ... but Raonic now has one last shy on serve ... and forces Isner wide, then puts away the volley!
Raonic 6-6 Isner -
Raonic has his thigh taped, and Isner serves out, Here comes the breaker.
Raonic 6-5 Isner -
Ooh, the holds are coming thick and fast. Raonic clinches the latest to 15, a bit of serve-volley sealing the deal. Isner, "a big supporter of Donald Trump", will now serve to stay in the set. Apparently he plans to fly him to his semi if he wins. In case anyone's wondering who to back here.
Raonic 5-5 Isner -
I think we might see a breaker here. I've a funny feeling.
Raonic 4-4 Isner -
Isner holds to love, clinching it with an ace down the T.
Raonic 4-3 Isner -
We're still on serve here, as you might have expected.
Raonic 1-1 Isner -
Isner holds to 30.
Raonic 1-0 Isner -
Raonic holds to love. Of course he does.
Raonic and Isner are out - pretty much everyone else has nipped out for a break.