avant-match
LIVE
Novak Djokovic - Kei Nishikori
Wimbledon men - 11 July 2018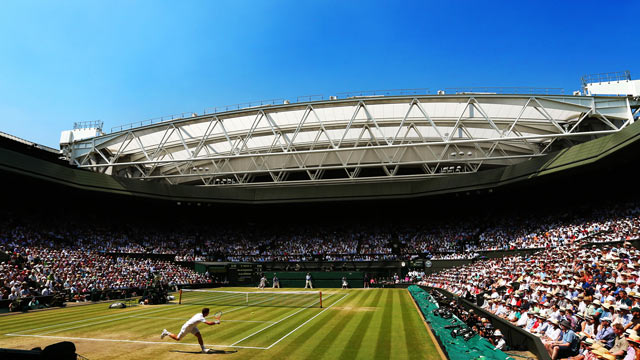 Wimbledon – Follow the Tennis match between Novak Djokovic and Kei Nishikori live with Eurosport. The match starts at 14:00 on 11 July 2018. Our live coverage lets you follow all the key moments as they happen.
Head-to-head: see historical stats and visit our detailed profiles for Novak Djokovic vs Kei Nishikori. Get all the latest on Tennis: fixtures, results and tables.
So there we are - stay with me for the rest of today's action.
Djokovic 6-3 3-6 6-2 6-2 Nishikori -
Djokovic wants this did and they end up at deuce, then advantage Nishikori ... a forehand winner, on the run and down the line brings it back to deuce. Djokovic wins the next point too, then a forehand topspinner, cross-court and moving in, closes the match! Djokovic is playing so well now, better and with more edge than for ages, and looks a serious contender to win this. He meets Nadal or Del Potro next.
Djokovic 6-3 3-6 6-2 5-2 Nishikori -
Nishikori pushes Djokovic in this service game but loses it to 30, and must now serve to stay in he championships.
Djokovic 6-3 3-6 6-2 4-2 Nishikori -
A holding hold for Nishikori; can he now break?
Djokovic 6-3 3-6 6-2 4-1 Nishikori -
Djokovic has a really good chance of beating whoever he plays next, I'd reckon. Neither Nadal nor Djokovic are playing all that well and he looks like he's got his edge back. Another hold, and he's nearly there now.
Djokovic 6-3 3-6 6-2 3-1 Nishikori -
Djokovic holds, then breaks again. This is over; he's full of righteous indignation and playing really well, the best I've seen him play in quite some time.
Djokovic 6-3 3-6 6-2 1-1 Nishikori -
Tremendous hitting from Djokovic, who breaks back to 15 and then has words with the umpire when Nishikori bangs his racket down, the bad grass.
Djokovic 6-3 3-6 6-2 0-1 Nishikori -
But look at this! Djokovic goes long and Nishikori has two break points! The first is saved via ace but Nishikori climbs into his second serve, dictates the rally, and eventually Djokovic goes long!
Djokovic 6-3 3-6 6-2 Nishikori -
And there it is! An easy break for Djokovic, to 15, and he'll take some stopping from here.
Djokovic 6-3 3-6 5-2 Nishikori -
Djokovic is right into this now and holds to love. I'd not be shocked to see him clinch the set via double break.
Djokovic 6-3 3-6 4-2 Nishikori -
That hold has fired Djokovic who gets to 30-40 and punishes a return that elicits a wide response. Which in turn elicits a cathartic holler - some of it for the umpire, I shouldn't wonder.
Djokovic 6-3 3-6 3-2 Nishikori -
Nishikori gets to 0-30 and then Djokovic sends a backhand slice long! Crucial points coming up! Djokovic saves the first two break points, then his solidity from the back sees him outlast Nishikori in the next rally - eventually a backhand hits the net. From there, it takes two advantages, but eventually Djokovic holds, and what a huge hold that is.
Djokovic 6-3 3-6 2-2 Nishikori -
At 30-15 a Djokovic forehand is called long. It looked good to me, and there's some aggression in the challenge - yerman still fancies a ruckus for the code violation of earlier - but the line judge was right. Still, Djokovic makes deuce ... and advantage, but keeps hitting to Nishikori's dangerous backhand then, when he comes in can't find the pass and away goes the volley. Quickly, Nishikori makes game point, before a wrongfooting winner elicits a bonus slip.
Djokovic 6-3 3-6 2-1 Nishikori -
On serve at the start of set 3, and it's funny, tennis: Djokovic was the better player for most of set 2, and yet here he is and here we are. Still, he finds a love game and will shortly endeavour to break.
Djokovic 6-3 3-6 Nishikori -
Djokovic gets to 40-30, but a huge serve out wide and a whipped forehand into the opposite corner levels the match!
Djokovic 6-3 3-5 Nishikori -
Nishikori makes Djokovic fight for his hold, getting to 30, but Djoovic gets there and makes him serve for it.
Djokovic 6-3 2-5 Nishikori -
Djokovic gets to deuce but no further. He must now serve to stay in the set.
Djokovic 6-3 2-4 Nishikori -
Djokovic stops the rot, holding to love. He'll know he's been the better player here, so will fancy breaking back.
Djokovic 6-3 1-4 Nishikori -
Fine consolidating from Nishikori, who all of a sudden is hitting it nicely, fired by fighting for his first two holds in this set. Suddenly, two more holds and it's his!
Djokovic 6-3 1-3 Nishikori -
Nishikori wins a long rally from the back with a forehand cross-court, earning himself break point. Then Djokovic serves into the net before producing a lovely second effort, kicking out wide; with the whole court to aim at, Djokovic tries an unnecessary drop, and hits the net! Who saw that one coming?
Djokovic 6-3 1-2 Nishikori -
Djokovic has been given a warning for some nonsense, swearing reckons Mac. Oh noes! Ah! It turns out if was became he bounced his racket on the grass - outside the court, to the consternation of no one - and he is less than impressed with the umpire, who I personally think is a very big and impressive man.
Djokovic 6-3 1-2 Nishikori -
And here he goes, racking up 0-40 thanks a fine, point-defining return. But Nishikori rouses himself to make deuce, a beautiful net cord moves him to advantage, and a big serve does the rest.
Djokovic 6-3 1-1 Nishikori -
Simple hold for Djokovic, who knows he's in the ascendancy and is looking to capitalise.
Djokovic 6-3 0-1 Nishikori -
A helpful net cord gives Djokovic deuce and after Nishikori misses three chances on advantage, a Djokovic forehand gives him a breaking opportunity. Nishikori saves it, but then a huge serve opens the court only for him to underhit a drop; again Djokovic can't convert, and eventually, after 10 minutes, Nishikori closes out.
Djokovic 6-3 Nishikori -
At 40-15 Nishikori swipes a brilliant forehand return cross-court for a clean winner, and then another forehand earns him deuce. Djokovic is suddenly unhappy, venting towards his box before delivering an ace, and a point later he's cemented a lead.
Djokovic 5-3 Nishikori -
Oh dear. Djokovic takes some pace off the ball, and that proves to be enough. Nishikori makes a right pig's arse of his service game, allowing a break without many winners, and he must now retaliate to save the set.
Djokovic 4-3 Nishikori -
Camilla Windsor appears to have got lucky in the ballot; what're the chances? Djokovic holds, targeting Nishikori's forehand.
Djokovic 3-3 Nishikori -
Cliff Richard is in the crowd wearing a rather odd floral blazer; another reason to hope it doesn't rain. Nishikori is playing pretty well now, and he holds to 15; can he step into Dkjokovic now?
Djokovic 3-2 Nishikori -
Djokovic finds himself facing two break-back points ... and a double fault means Nishikori only needs one!
Djokovic 3-1 Nishikori -
McEnroe has now been apprised as to Withnail's glory, though I'm not sure how much e he liked tennis, or people who like tennis. Djokovic gets to 15-40, then a wild backhand gives Nishikori a sniff ... so he quickly closes out to break!
Djokovic 2-1 Nishikori -
A love hold for Djokovic, who has both Centre Court and McEnroe commentating, but who's been stuck on BBC2. Some you win...
Djokovic 1-1 Nishikori -
Nishikori holds easily enough.
Djokovic 1-0 Nishikori
Confident start from Djokovic, who holds to 15 and finishes the game off with a first ace. McEnroe notes he does "everything better" than Nishikori, who will struggle to make an impression here.
Djokovic is going to serve...
They banter as they come out. Glorious.
The players will be with us presently.
Afternoon all, and welcome to what promises to be a belter. Novak Djokovic might just've rediscovered himself, while Kei Nishikori is on the way back too - and beat Djokovic at a Slam, the 2014 US Open, when that was bordering on impossible. It's hard to see a repeat of that today, but you never know.