avant-match
Race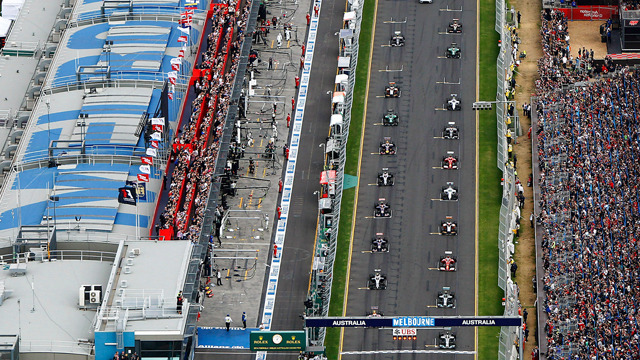 Follow the Abu Dhabi Grand Prix live with Eurosport. The race starts at 12:00 on 26 November 2023. Find race results, standings, stats, scores and track info. Keep up with the top F1 drivers and teams including Lewis Hamilton (Mercedes), Valteri Bottas (Mercedes) and Max Verstappen (Red Bull Racing).
Formula 1 fans can read breaking Formula 1 news, interviews, expert commentary and watch free replays. Don't miss the upcoming Formula 1 events. Make Eurosport your go-to source for sports online from Formula 1 to football, tennis, snooker and more. Enjoy live streaming of this season's top sports competitions.
LAP 58/58 - VERSTAPPEN WINS FINAL RACE OF THE SEASON
Max Verstappen wins his 15th race of the season as the curtain falls on the 2022 season. Leclerc holds on for P2, and Perez takes the last spot on the podium.
Sainz finishes in 4th, Russell in 5th, Norris in 6th, Ocon in 7th, Stroll in 8th, Ricciardo in 9th and Vettel in 10th on his final race.
LAP 57/58 - TWO LAPS LEFT
Two laps to go - Perez still has a huge amount to do on the final lap as the gap to Leclerc ahead of him in P2 is at 1.6 seconds.
Hamilton's retirement has shaken up the running order, and currently both Aston Martin cars are in the points.
55/58
LAP 55/58 - SAINZ GETS PAST HAMILTON
Sainz gets past Hamilton for P4 at the end of the first back straight, as Hamilton reports losing shifts! His engineer tells him that he has a hydraulic problem and he is going very slowly stuck in seventh gear! He crawls back to the pits and he has to retire the car!
LAP 53/58 - SIX LAPS TO GO
Six laps to go - Perez is closing on Leclerc, but is it enough? On the last lap, the Mexican was six tenths quicker. The gap now stands at 4.1 seconds.
The other key battle is for 4th, as Hamilton, who has stayed out on the one-stop strategy, is ahead of Sainz by just 1.6 seconds now. The Spaniard, on a lot fresher tyres, is catching him very quickly.
LAP 50/58 - LECLERC NOW TOLD TO SAVE TIRES
Charles Leclerc has now been told to save tires. He is currently in P2, 7.5 seconds ahead of Perez. The Red Bull has eight laps to catch him.
As for Lewis Hamilton, who is in P4, Sainz is catching him quickly and currently is 6.3 seconds behind the Mercedes driver.
Verstappen, meanwhile, is cruising out in front.
LAP 46/58 - PEREZ FINALLY GETS PAST HAMILTON
Perez, who initially gets past Hamilton down the back straight with DRS, cannot hold onto it for long, as Hamilton attacks back at the Red Bull at the next DRS zone.
Checo manages to get the job done on the next lap though, and he has closed the gap to Leclerc to around eight seconds. There are 11 laps remaining - can he catch him?
LAP 42/58 - MORE PIT STOPS
Both Russell and Sainz pit. Hards go on the Ferrari, and mediums go on the Mercedes. Russell serves his five second penalty and emerges back out in P6. Sainz is in fifth.
As for the whole Leclerc/Perez situation, Perez is lapping quickly, and on this pace, he will be able to catch Leclerc before the end of the race if the Ferrari man stays out.
LAP 35/58 - VERSTAPPEN TOLD TO MANAGE HIS TYRES
Verstappen has been told by his engineer to manage his tyres. This may indicate that the Red Bull team are switching to the one-stop strategy.
Ferrari may do the same as Leclerc has said to the team that he is happy on his current worn hard tyres.
LAP 34/58 - PEREZ COMES IN!
Perez and Red Bull have reacted and decided to come in. Leclerc and Ferrari have decided to stay out, and that will mean if he can maintain the pace on these tyres, they can push for their final stint. Perez may be in trouble here, and might have to manage his tyres. He is now in P6.
LAP 32/58 - PEREZ MAY NEED TO LOOK IN HIS MIRRORS SOON
Leclerc, who is in P3, has now closed the gap to Perez ahead of him to under 1.7 seconds. We are shortly approaching the pit window for those drivers on a two-stop strategy, so Red Bull have a decision to make here. Do they stay out, and keep the option for the one-stop open, or come in and react?
LAP 30/58 - PEREZ COMPLAINING ON TEAM RADIO
The Mexican, who is slowly being caught by Leclerc behind him, is complaining to his team that Verstappen is holding him up. That may encourage the team to tell the Dutchman to pick up the pace.
All the while, he is still in the lead, and over two seconds clear of his team-mate.
28/58
LAP 28/58 - AS YOU WERE AT THE FRONT
Verstappen still leads Perez by just over two seconds. Leclerc remains in P3, and is 2.6s behind the Mexican.
Meanwhile, a shame for Alonso, as Alpine are forced to retire the car in his last race for the Enstone-based team.
LAP 22/58 - VERSTAPPEN PITS FROM LEAD
Verstappen, who has been complaining about his front right tyres, boxes for a set of fresh hards. His stop is slower than normal, and he emerges back out just in front of his team-mate Perez. That extension of his stint has cost him some time.
Leclerc also pits the next lap. He comes back out in P3, but his team-mate Sainz is all over the back of him.
Also, Russell has been slapped with a five second time penalty for an unsafe release.
LAP 18/58 - MORE PIT STOPS
Both Sainz and Hamilton come in for a set of harder tyres. Sainz comes back out in 5th, behind Vettel, who has not stopped. At the end of the lap, he manages to get past the Aston Martin with the help of DRS.
Hamilton, meanwhile, is currently in 7th. He complains to the team radio that he may have a broken floor after that earlier incident with Sainz.
LAP 17/58 - RUSSELL HAS SLOW STOP!
Russell opts to come in, but he has a slow stop! He is stationery for a good five seconds and he has an unsafe release as he comes out right in front of Norris, who is forced to slam his brakes to avoid an accident.
He may well face a penalty for that.
LAP 16/58 - PEREZ PITS
Perez has opted to come in for a set of hard tyres. He pits from P2 and comes back out behind Alonso. He is now in P7, but he will now be able to push.
That sentiment proves to be short-lived, as a mistake by Perez into the chicane at the end of the back straight because of cold tyres means the Mexican has to spend a lap in traffic before he can get back past Vettel.
LAP 13/58 - VERSTAPPEN STILL LEADS
Verstappen is having a great race so far, as he has managed to pull out a small gap to Perez behind him. It currently stands at five seconds. Perez, in P2, is then 1.3s ahead of Leclerc.
As for Hamilton, he seems to still be struggling pace-wise, as he is now 2.8s behind his team-mate. The Mercedes driver currently is in P6.
LAP 10/58 - RUSSELL GETS PAST HAMILTON
George Russell has got past his team-mate down the second back straight with the help of DRS. He moves into P5.
Hamilton then gets on the radio to complain that he is losing power. It seems to be a legitimate concern as over the course of one lap, he has already been dropped by over 1.6 seconds by his team-mate.
LAP 8/58 - HAMILTON CANNOT SHAKE SAINZ
Hamilton has not been able to gap Carlos Sainz, and the Ferrari has been able to remain in DRS territory. Then, Sainz gets back past the Mercedes into the second DRS zone on the second straight.
This has left Hamilton vulnerable to his team-mate, George Russell.
LAP 4/58 - HAMILTON FORCED TO GIVE POSITION BACK
Hamilton is told by his engineer, Peter Bonnington, that he has to give the place back to Sainz after that off-track excursion at the chicane. Hamilton drops down to P5 briefly, but manages to get back past the Ferrari on the track into the long-left hander of Turn 9 after the second back straight.
LAP 2/58 - NO FURTHER INVESTIGATION ON HAMILTON
Both Hamilton and Sainz, who were under investigation after the Mercedes was forced off the track, will face no action from the stewards.
LAP 1/58 - LIGHTS OUT AND AWAY WE GO!
We are underway here in Abu Dhabi! Verstappen gets well off the line and leads into Turn 1 despite pressure from behind by his team-mate.
Leclerc tries to get past Perez into the hairpin before the back straight, but he cannot get the move done. Hamilton then tries to get past Leclerc into the chicane, but it forced to cut the corner!
CLASSIFICATION: VER, PER, LEC, HAM, SAI, NOR, RUS
FORMATION LAP UNDERWAY
The cars are away for their warm-up lap.
NOT LONG TO GO!
Around ten minutes until we get going for the formation lap here at the Yas Marina Circuit.
WHO WILL TAKE SECOND?
As it stands, both Perez and Leclerc are both tied on 290 points. It is simple - whoever scores more points today seals P2 in the driver's championship.
DANKE SEB!
It will definitely be emotional at the end of this race. What a legend this man is.
GOOD AFTERNOON!
Hello and welcome to our minute-by-minute text coverage of the Formula One season finale here at the Abu Dhabi Grand Prix, taking place at the Yas Marina Circuit. We have already seen the world championship been decided, but the key battle today focuses on who will finish 2nd in the standings - Sergio Perez or Charles Leclerc.
Max Verstappen lines up on pole position ahead of his team-mate, with Leclerc in 3rd. Both Mercedes cars start on the third row.
It is also Sebastian Vettel's F1 farewell, and the Aston Martin driver lines up in P9.