avant-match
Free Practice 2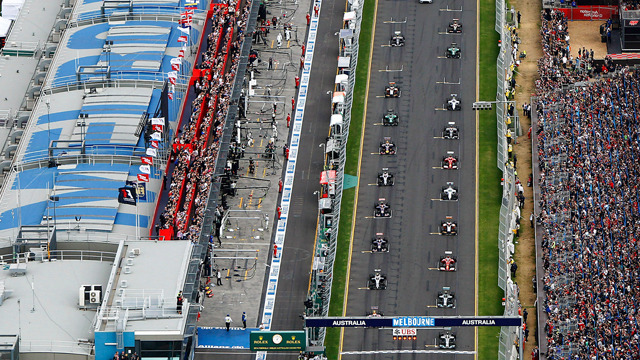 Follow the Malaysian Grand Prix live with Eurosport. The race starts at 07:00 on 22 March 2013. Find race results, standings, stats, scores and track info. Keep up with the top F1 drivers and teams including Lewis Hamilton (Mercedes), Valteri Bottas (Mercedes) and Max Verstappen (Red Bull Racing).
Formula 1 fans can read breaking Formula 1 news, interviews, expert commentary and watch free replays. Don't miss the upcoming Formula 1 events. Make Eurosport your go-to source for sports online from Formula 1 to football, tennis, snooker and more. Enjoy live streaming of this season's top sports competitions.
Thanks for joining us. We'll be back tomorrow morning for FP3 at 05.00 GMT.
The chequered flag is out to signal the end of the session. Raikkonen tops the times, his 1m36.569 set at the start of the session before the rain came. Vettel is second fastest from Massa, Alonso, Webber and Grosjean.
A moment for Grosjean who has a jaunt over the grass through turns five and six.
Vettel clocks a 1m46.6 on the hard compound, two seconds slower than Webber on the same.
Almost every car now out on the circuit as the session draws to a close. Raikkonen will stay quickest with his dry time set at the start of the session.
Mark Webber struggled under braking into the final corner on his hard compound tyres.
@MyCaterhamF1 Back to slicks? Why not... the rain's stopped
Massa on the hard compound, Rosberg has opted for the medium. Raikkonen also on the medium compound.
So most of the field have indeed pitted to put dry tyres back on again for the final ten minutes of running.
Lewis Hamilton reporting that it's still wet in a lot of places on the circuit.
Both Toro Rossos have changed for slick tyres. Webber is coming in for the prime tyres.
The track is fairly dry now and it won't be long before those intermediates are changed again. Vettel in.
Now Guido van der Garde spins his Caterham and has a trip into the gravel. No more rain expected.
Adrian Sutil's day is done. He is sat in shorts in hospitality with his feet up!
@clubforce Paul still in the pits with his VJM06. Pretty sure he's seen plenty of wet roads in Scotland. Just joking of course. Paul is preparing to go out for his first laps since the rain came to get some miles on the damp track.
After his moment, Perez pits and changes his full wet tyres for intermediates.
A moment for Sergio Perez who has a little jaunt over the gravel at turn 11.
Vettel is the quickest driver in the wet conditions with a 1m58.8.
Both Ferraris join the fray, also on intermediates. There will be no bettering Raikkonen's mark now it appears.
Vettel is also out on the inters, which looks the best choice. Not much standing water.
Esteban Gutierrez is out on the full wets.
Now there is activity. Some cars are indeed out on the intermediates.
The rain shower didn't actually last that long. The circuit is looking dry in parts. Still no activity on the circuit.
It's actually drying out at some parts of the circuit so no points in wasting a set of intermediates.
So the running order is Raikkonen, Vettel, Massa, Alonso, Webber.
@OfficialSF1Team big rain now @sepangcircuit. end of action. all cars in the garages. having a tea now....
Nobody on track at the moment. We should see some intermediate running soon. All good practice for the weekend ahead!
The rain is pretty steady now and most of the cars are coming in.
Nico Hulkenberg has spun at the pitlane entrance. He reverses and gets on his way again, almost collecting Vettel!
Raikkonen still heads the lap times with his 1m36.569s. He'll probably stay there now.
Paul Di Resta: "the rain is getting really bad now, getting very slippy"
@InsideFerrari: The two Ferrari men practicing some long runs but now its starting to rain.
@OfficialSF1Team The team is fixing The team is fixing a broken exhaust on @EstebanGtz 's car. Keep pushing guys!
A bit of a wobble from Di Resta but a good recovery. Alonso reports that it's raining at turn 7.
Jenson Button is asked how his car is, to which he replies 'much better'.
Mark Webber doing some race simulation laps on the medium compound.
If the rain does start to hammer it down, there may not be a lot of running left. These storms can be torrential.
Now there is rain in the pitlane. Raikkonen still heads the times.
Gutierrez has a broken exhaust and Adrian Sutil also has problems, the mechanics working on the floor of his Force India.
Paul di Resta has told his team that there is rain at the far end of the circuit.
Lewis Hamilton is a full six seconds off the pace.
53'
Raikkonen goes quickest with a 1m36.569. It's definitely spitting with rain.
It's still only light rain so far although the dark clouds are looming. Vettel still quickest from Massa and Alonso.
For all you McLaren fans out there, Sergio Perez is ninth quickest ahead of Jenson Button.
Out comes Nico Rosberg on the medium tyre. Little running for the Mercedes duo in FP2 so far.
Raikkonen is coming out of the pits again on the medium compound tyre. Is anyone going to be caught out by the rain? It's starting to fall...
An hour to go in FP2. Vettel leads Massa, Alonso, Webber and Raikkonen.
62'
And Vettel goes fastest on the medium compound tyres. His time a 1m36.588s.
Really dark overhead now. Rain expected in the next five minutes...
Charles Pic has gone off the track at turn 14 before rejoining the circuit. It's a very tricky section.
So Massa still heads the FP2 sheets from his Ferrari team-mate Alonso. Raikkonen is third quickest from Vettel, Di Resta and Webber.
@williamsF1Team Pastor now heads out for a run on the option tyre - making sure he gets a run before the rain
Really grey skies overhead now. The wind has also picked up a bit.
Felipe Massa goes quickest of all with a 1m36.661. Rain expected in ten minutes.
@pirellisport: In FP2 we'll see the orange hard tyre to start with and then there will be the white medium compound coming out to compare behaviour.
A lot of cars now switching to the medium compound tyres in an attempt to get a few laps in before the rain.
It's really dark overhead now and we're expecting the rain to hit shortly.
Vergne and Massa have just come out on new sets of medium compound tyres.
So, 15 minutes into this second session and Raikkonen leads Alonso, Vettel and Paul Di Resta. Next comes Webber, Massa and Sutil.
The mystery smoke in the cockpit of Gutierrez was his fire extinguisher going off in the cockpit when he ran wide over the kerb at turn 13!
There is really bad blistering on the back right rear of Max Chilton's Marussia. He is staying out though.
Raikkonen looks pretty well dialled in. He betters his mark further to a 1m37.042. There is smoke in the cockpit of Esteban Gutierrez.
McLaren have been on the radio to Sergio Perez telling him that turns 1 and 2 may be slippery.
Raikkonen betters that mark with a 1m37.302.
Mark Webber's 1m35.935 is the time to beat. Alonso is the quickest so far this session with a 1m37.383.
The cars are now out on track. Max Chilton leads the crocodile away from the pits in his Marussia.
And just as I said that, a few spots of rain have appeared. This could get very interesting! Ten minutes until the pit lane opens.
Still no rain as yet although there was a big downpour yesterday. The rain can come quickly here.
Check out our ultimate Malaysian GP race guide
Hello and welcome to the second free practice session for the Malaysian Grand Prix. Mark Webber's Red Bull leads the way after FP1 from Australian Grand Prix winner Kimi Raikkonen and team-mate Sebastian Vettel.
Five things you need to know about the Malaysian GP