avant-match
Free Practice 3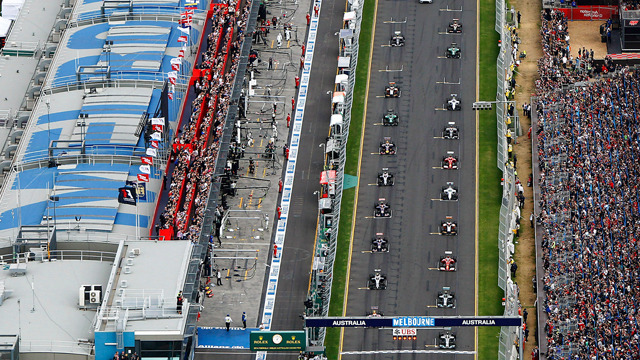 Follow the Singapore Grand Prix live with Eurosport. The race starts at 13:00 on 25 September 2010. Find race results, standings, stats, scores and track info. Keep up with the top F1 drivers and teams including Lewis Hamilton (Mercedes), Valteri Bottas (Mercedes) and Max Verstappen (Red Bull Racing).
Formula 1 fans can read breaking Formula 1 news, interviews, expert commentary and watch free replays. Don't miss the upcoming Formula 1 events. Make Eurosport your go-to source for sports online from Formula 1 to football, tennis, snooker and more. Enjoy live streaming of this season's top sports competitions.
The weather is being mischievous - and it's all poised for a fascinating qualifying session.
Senna out of the car safely.
Time up! It ends in anticlimax, but it does set it up nicely for later. We just don't know how quick the cars are at their best. But we only have a couple of hours until we find out.
Yes, the time is ticking away, the stewards aren't running to Senna, and that's the end of the quest to be fastest.
Yellow flag is out - Bruno has spun - and that might have ruined the last chance of hot laps at turn 15.
Button improves his time - but he's only 13th.
Alonso second - six-tenths down. One lap left.
3'
Vettel fastest 1:48.028 - Webber not on the pace at all by comparison.
Trulli shown having a struggle through the chicane, as is Buemi - it's going to be tricky for all the racers.
Rosberg and Schumacher are out - just four men left in the pits.
Senna and Klien improve, but they're still lagging behind the field.
Right - here they come - Hamilton, Vettel, Webber - all out on option tyres.
The two Hispania drivers are out - both well over a second behind after the first sector. Not looking good.
Final ten minutes - does anyone else want a short final run?
Top 12 racers are in the garage, including Rosberg, who had just gone tenth.
12'
Vettel improves to a 1:48.350 - he's looking sharp - will his team-mate bridge the gap?
Schumacher misses turn 1 and 2, and finds a nice straight route instead...
Rosberg spins off in the third sector - it's yellow flag for the briefest of moments. I won't use the icon since it's already been lifted...
Top ten as we get into the end of the session: Vettel, Alonso, Hamilton, Webber, Hulkenberg, Massa, Kubica, Sutil, Massa, Button
Kubica and Alonso very nearly collide as the Ferrari emerges from the pit!
The weather for the qualifying session is going to be fascinating. It's not raining, but the humidity is high and the track may not completely dry out.
He might be top of the times but Vettel is certainly having a few battles with his car as the back end wobbles in the rain.
18'
Vettel finally strings a fastest lap together - 1m48.730.
19'
Alonso is fastest now - 1:48.909 - but not for long...
Some talk about Ferrari's engines - Ferrari have used 8 engines for each driver this season, and Mark Webber is enjoying running a fresh engine for this Grand Prix. Is this time of year the moment we'll see the cost of the early season engine troubles?
Make that fourth and fifth - the Ferraris are picking up their pace.
Webber on a flier here... meanwhile Alonso has lapped faster than Massa - the two Ferraris are seventh and eighth.
Barrichello not on his younger team-mate's pace for the moment - he's ahead of Button though for 5th.
Button pushing hard and posts 1:50.066 - 3rd, but well behind Hamilton. Webber's first lap lifts him up to second.
25'
Another sharp lap from Hulkenberg noses him in front of Hamilton but Lewis responds with a 1:49.000 - there's room for improvement and those times should still fall considerably.
Replays show Bruno Senna lost the back end of his car going into turn ten. He doesn't disturb anyone. Menawhile Vettel is on track and in 11th after his first lap.
25'
Hulkenberg held the lead for a moment but Lewis Hamilton eases past that with a 1:49.651.
Button posts the fourth best time on his first full lap - Rosberg nips ahead and into third.
26'
Schumacher posts 1:50.146 which is the quickest lap of the evening.
Better lap from Sutil - he sneaks into the 1m50s and that's good enough for fourth.
Lewis Hamilton out on track now, but has a little wobble on his warm-up lap - he has it back under control now though.
Alonso improves 6th - still slower than Massa in third. Sutil, who had that nasty bump at turn ten yesterday, languishing in 13th so far.
Rosberg nips in to second with his opening effort. Quicker than his team-mate once more.
Top five at halfway - Kubica, Schumacher, Buemi, Massa, Hulkenberg. No sign of the McLarens or the Red Bulls as yet.
Alonso has a little wobble around turn 5, one of the wetter parts of the track as he posts the 12th fastest time on his first full lap.
32'
Schumacher posts the second fastest time - 1:51.398. Kubica goes faster on his next lap - 1:50.428 to extend his gap at the top.
Looks like the Ferrari's have opted against the F duct - that's an interesting decision - on these longer straights is it the best move?
Kubica brings the time down to 1:50.958 - Massa only sixth for Ferrari, and one Michael Schumacher has joined the racers on the Singapore streets.
Kubica has a chance to set the bar in one of the faster cars, and he obliges 1:52.248 - but a Ferrari is now on track...
Alguersuari's front suspension takes a bit of a battering as he negotiates the chicane.
Trulli is out on track, and Petrov has posted a time too - both are slower than the Toro Rosso.
38'
1:54.057 from Alguersuari - and that probably merits a P1 icon...
Jamie Alguersuari looks like he'll be posting a lap too in the Toro Rosso - and he's already 1.6s faster than Di Grassi in the first sector.
It's been a very ginger lap from Di Grassi, and he's through in just over 2 minutes - 2:00.831. Safe to say we'll see quicker.
No troubles for Di Grassi at the Turn 10 chicane...
And here's Lucas Di Grassi - and he looks like he might actually set a time...
Thanks, Kamui Kobayashi - you've given us something to talk about! He's on track.
The water on track is looking a little heavy in certain areas, but dry in others. It's an awkward phase - a bit too wet in patches for slicks, but a bit too dry to get much out of the intermediates in others. It probably explains the hesitancy of the teams to get out and test.
Pictures show the Singapore traffic looking very heavy as evening descends. There's no traffic on the track.
Mark Webber is entrenched in discussions with his engineers.
There's a little polish being applied to the Red Bull, but no hint of anyone heading on to the track.
Vettel back in, as is Michael Schumacher and Barrichello.
A host of checking laps so far - no times to report.
Everyone is very optimstic about their qualifying prospects - plenty predicting Q3 who've not been up there before - will we see an unexpected line-up on the grid?
Speaking of Christian Klein - why is Karim Chandhok missing out today? Lots of people scratching their head at that decision.
The track looks spectacular as Christian Klein storms down the straight in his Hispania - can he adjust to this last-minute call-up?
Lots of discussion about turn ten - Lewis Hamilton described the chicane in less than glowing terms yesterday - we'll see if anyone struggles with it in this hour.
We're away - and there are plenty of drivers heading straight out to test their set-ups - looks like a few drivers are opting for intermediate tyres.
The track is wet, and already we've heard Jaime Alguersuari being told how slippery it will be - it should be an interesting session especially if qualifying throws up different conditions.
Afternoon everyone, it's getting dark in Singapore, and we're ready for the final practice session before qualifying.